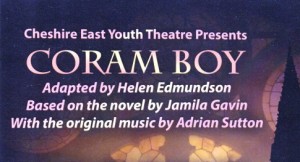 Pupils from Malbank School have teamed up with Cheshire East Youth Theatre (CEYT) to star in the production of "Coram Boy" at Crewe Lyceum on June 28.
It's the first time CEYT has formally worked with the Nantwich school.
Malbank students will form the bulk of the cast and perform excerpts from Handel's Messiah and songs from the original score penned by War Horse composer Adrian Sutton.
Dr Sue Sharkey, Malbank School and Sixth Form College's head of music, said: "Malbank are delighted to work with Cheshire Youth Theatre on their production of Coram Boy.
"This is a new venture for us but another opportunity to work within the larger community.
"The choir are really looking forward to the challenges of the music, the costumes and working with Cheshire East Youth Theatre."
Coram Boy is the stage adaptation of Jamila Gavin's acclaimed young adult novel of the same name.
It tells the story of two young orphans from the highest and lowest classes of 18th century society and their lives, interwoven within the heart-rending true social history of Thomas Coram's Foundling Hospital and unscrupulous men who profited from it.
Hayley Lindley, CEYT coordinator, said: "Music is a vital element of the plot and we know the choir will play a pivotal role in bringing this inspiring and emotional production to life."
Malbank students have worked with Coram Boy's musical directors Georgina West and Matt Baker to prepare for their role, as well as in-depth rehearsals for the production with Malbank's choirmaster since March.
CEYT and the production team behind Billy Liar (2012) and One Flew Over the Cuckoo's Nest (2013) present Coram Boy at the Lyceum Theatre on Saturday June 28, from 6pm.
Tickets are £8.50, £6 concessions with a 50p booking fee.
Tickets are on-sale now and can be purchased via the Box Office or online at www.crewelyceum.co.uk