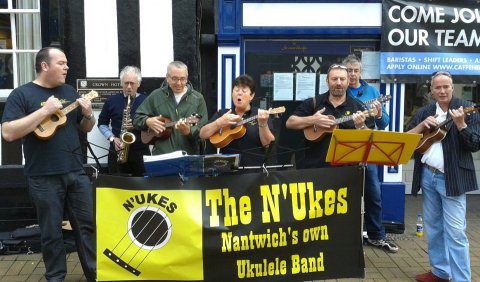 Ukulele fans across the UK played all the right tunes to raise almost £4,000 at a Nantwich festival.
The third annual N'Ukefest Ukulele Festival, held at The Cotton Arms in Wrenbury, was organised by Nantwich band The N'ukes.
And it saw hundreds of players descend on the village to raise a staggering £3731.58 for the Wingate Centre, Wrenbury and Macmillan Cancer Support.
The festival, a voluntary event put on by The N'Ukes and friends, drew players and ukulele fans from as far afield as Edinburgh, South Wales and Reading for a chance to perform on the open mic stage.
Their treat was an evening concert put on by some of the UK's top ukulele artists and the N'Ukes themselves.
A charity raffle saw prize donations from all over the world including hand made instruments, and a cake stall, quiz and donation from the Cotton Arms helped to deliver a bumper total.
Barry Maz, of The N'Ukes, said: "This was our third annual festival, but we wanted this one to the biggest.
"We were staggered by the number of people that arrived and their generosity over the weekend.
"The ukulele community across the UK have been talking about it ever since!"
The N'Ukes play rock and blues on electric ukuleles across the UK and throughout Cheshire.
"We wanted to make this one a real charity affair, and particularly bringing in funds for a local Cheshire charity," Barry added.
"I think we succeeded!"