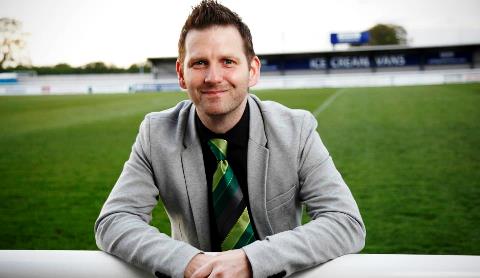 Nantwich Town manager Danny Johnson is looking to bring the club's youth team closer to the first team.
And now he is inviting interested school leavers or young footballers not offered a scholarship with a professional football club, a chance to join his first team squad for pre-season training.
The move comes as the club on Waterlode embarks on a new partnership with Malbank School and Sixth Form College, with the new Nantwich Football Academy.
Danny said: "The first team returns for pre-season training on Tuesday July 1, and I want to incorporate the Nantwich Football Academy which is a full time education and football coaching programme in partnership with Malbank School and Sixth Form.
"I will be looking for two or three of these young lads to take a place in my squad for the new season and just like Peter Green, Jordan Wain and Callum Hood last season, they will be given every opportunity to develop and become part of the club's future.
"At this level of football, where finances are tight, it is vital we create a pathway in to the first team set up.
"The creation of The Nantwich Football Academy certainly does this.
"These young lads will undertake a rigorous training routine three times a week and this will stand them in very good stead when they compete in the FA Youth Cup and the English College they will be participating in.
"These are exciting times to be part of a club looking to young players to become part of the club's future."
If you are a school leaver and would like to study for a high quality BTEC Level 3 in Sport while training and playing like a full time professional footballer, contact Danny on [email protected]