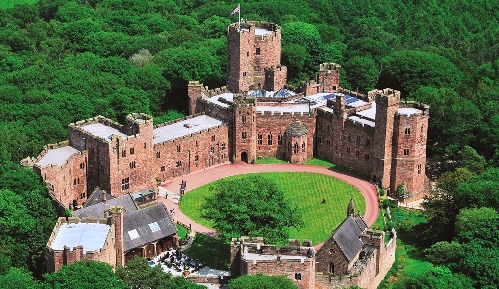 Peckforton Castle is hosting the ultimate family fun day –  in aid of a playground project set up by local mums.
The medieval style castle, near Nantwich, will open its grounds this Saturday (July 13) to raise money for a new children's play area in Bunbury.
Visitors to the hotel and wedding venue will be able to enjoy of host of activities within the grounds.
There will be garden games, archery, face painting, a falconry display, assault course and segways among other entertainment.
Bunbury's Olympic medallist Beth Tweddle will also be making an appearance.
Tweddle, who won a silver medal at the London 2012 Olympics, is supporting the new playground and is involved in design plans.
The former Crewe and Nantwich gym club member has helped to create a bespoke piece of gymnastic equipment.
This will be produced by local sculptor Stephen Broadbent and eventually go into the playground.
Matthew Naylor, of Peckforton Castle, said: "We wanted to pull out all the stops for the fun day.
"We don't often have the opportunity to open the grounds to all.
"The castle was inspired by the Bunbury project and wanted to get behind it in any way we could.
"The money raised from the day will all go towards the new playground and we look forward to seeing it bring joy to the children in the community."
Beth Hayward, one of the mums behind the Bunbury playground project, said: "We are really excited about the family fun day and this unique opportunity to explore such a beautiful place.
"We are very grateful for Peckforton Castle's generous support of this local project."