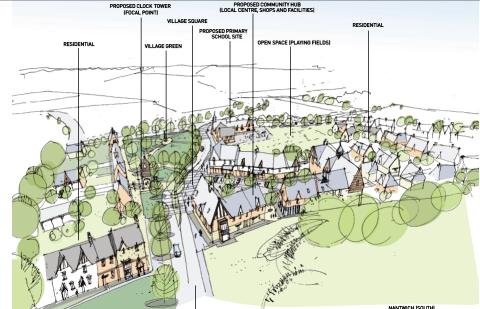 A Government decision on Muller Homes' appeal to start a 1,100-house "Nantwich South" village, has been delayed until September.
It was thought a decision would be made this month following a four-day public inquiry into the appeal in February.
Muller want to start the development by building 189 homes and an access road to the larger development off Peter de Stapleigh Way, Stapeley.
The plans for the site between Broad Lane, London Road and Peter de Stapleigh Way were refused by Cheshire East Council, and the site is not listed in the new Local Plan of potential new housing sites.
Following the inquiry in February, it was expected that the Planning Inspector would publish his decision by July 18.
The matter was referred to the Secretary of State who has now announced that he needs to consider the inspector's report more fully.
He said he will not be in a position to reach a decision in accordance with the previously advised date.
He will now issue his decision on or before September 1, 2014.
Sandy Gwinn-Freemantle, chairman of Stapeley Parish Council, said: "We are disappointed that there is to be a delay, but will have to be patient.
"We will keep our residents informed as and when we receive further information.
"I would like to take this opportunity to thank residents who supported the Parish Council's stance in this matter."