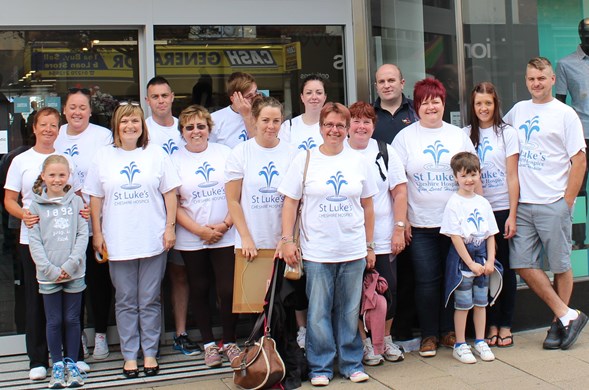 Staff at three Marks & Spencer stores in South Cheshire kicked off their annual charity fundraising in style.
Employees from Nantwich's Simply Food store took part in a gruelling triathlon to raise funds for St Luke's Hospice.
They were among 25 employees, with others from M&S Crewe and M&S Crewe Grand Junction Simply Food, who swam, cycled and ran the Nantwich Triathlon to raise funds.
The team began in Nantwich Swimming Pool, swimming 13 lengths, before jumping on their bikes and cycling 10km to the Crewe Grand Junction store.
The teams then ran 2.5km, reaching the finishing line at M&S Crewe.
This year, all three stores in Crewe and Nantwich have chosen to support St Luke's Hospice, as part of their Plan A commitments to work closely with local communities.
Each store will be hosting an ongoing fundraising campaign, with activities and events from sponsored walks and runs, to bag packs, cake bakes and raffles.
The funds raised will be donated to St. Luke's Hospice, which serves the Cheshire East area.
Owen Dyde, M&S Crewe store manager, said: "Each year we commit to working with a local cause for the good of the immediate community.
"This year we have joined forces with our neighbouring stores to support St Luke's Hospice.
"All our staff were really keen to choose a local charity that meant something to both employees and people in the area so the hospice felt like a natural choice.
"We wanted to start our fundraising efforts with a big event, involving staff from all three stores.
"The triathlon really did put us to the test but it was great fun and all in the name of a very worthy cause.
"We look forward to working with St. Luke's Hospice for many months to come and hope that our customers will enjoy the fundraising activities that we have lined up for the year."