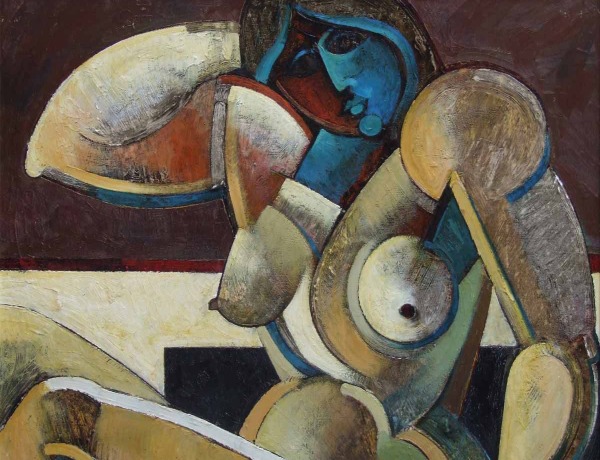 Paintings by Manchester artist Geoffrey Key took the honours in Nantwich auctioneer Peter Wilson's Summer fine art sale.
Eight pictures sold for £22,700, the most valuable a seated nude in the artist's signature surreal abstract style (pictured).
It sold for £7,200, while the equally surreal "Dead Elm" – an oil on canvas, signed and dated '01, with the tree set against a mountainous backdrop, sold for £5,600.
It was the second successive Peter Wilson fine sale in which works by Modern British, Contemporary and Northern artists have stolen the show.
The other Northern art contender in the 10 top was William Turner (1920-2013) another Manchester artist and friend of L.S. Lowry.
His painting of a solitary figure walking past a row of cottages on a grey and overcast rural lane sold for £2,100.
A surprising highlight of the sale was a small group of Della Robbia pottery, the pick of which are illustrated in a new book on the short-lived Birkenhead business founded in 1894 by Harold Rathbone and Conrad Dressler.
Peter Wilson ceramics specialist Chris Large felt this had reawakened interest in the Arts and Crafts ware and described demand as being "on fire".
However, the modern man with everything, including a suitably deep pocket, was probably among the bidders for the Rolex wristwatch already mentioned.
A President automatic day-date model built in 1991 (pictured, below), it was encrusted with diamonds and rubies and sold above its pre-sale high estimate for £7,500.
Entries are now invited for the Autumn sale of fine art, antiques and collectors' items on September 17-18, entries for which close on August 8.
For further information contact 01270 623878 or [email protected]