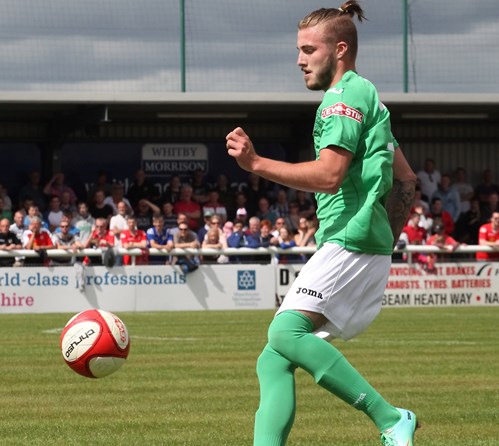 Nantwich Town wrapped up their pre-season campaign with a convincing 3-1 win away at Evo-Stik First Division North Side Northwich Victoria, writes Richard Scott.
Goals from Vinnie Mukendi, a Steve Lewis penalty, and Jordon Johnson sealed the win for the Dabbers.
The first real chance of the game came on six minutes when Max Harrop (pictured) played in Lewis, but his shot was deflected wide for a Dabbers corner.
Harrop took it and Mukendi stormed in with a bullet header to make it 1-0.
The game settled into a midfield battle, with Nantwich having the majority of the play but unable to find the all important second goal.
On 17 minutes Mukendi played a lovely ball down the line for Harrop, but the darting winger had a man on his back and his shot flew just wide of the post.
Mukendi almost scored a carbon copy of his goal on 29 minutes, when another Harrop corner found him in the six-yard area, but his header was just off target.
Northwich could have been level on 37 minutes when a Danny Meadowcroft header was just wide of Terry Smith's goal, before Michael Clarke was denied shortly afterwards when he headed against the bar.
Danny Johnson kept all 11 starting players on the pitch for the start of the second half.
Nantwich's first chance came when Louis Callaghan broke through, but he was off-balance and his shot went wide.
Northwich found an equaliser on 53 minutes, when sub Abobacar Sanogo hit an unstoppable strike from 25 yards.
But within ten minutes the Dabbers were ahead again. Alex Meaney played Harrop in on 62 minutes, and he was brought down in the area.
Lewis, with the final kick of his afternoon, stepped up and thumped it low into the bottom left corner.
With 20 minutes to go Harrop had a free kick well saved by the Vics' 'keeper as the Dabbers looked to extend their lead.
And they did in the 83rd minute, when Johnson turned in the area and slammed home to put Nantwich out of sight.
Bramell almost beat Johnson's strike for goal of the afternoon, but his late effort from 20 yards smacked off the bar.
With the Dabbers' pre-season fixtures now complete, they will travel to Buxton FC next Saturday August 16 for the opening day of this year's league campaign.
Kick off is at 3pm at Silverlands, Buxton.
Nantwich Town: Smith, Lycett, White, Pepper, A.Jones (C), Wilson, Mukendi, Callaghan, Lewis, Meaney and Harrop
Subs: Johnson (on for Lewis), Dolwning (A.Jones), Blake (of for Pepper), Zabacka (on for Meaney), Bailey (on for Wilson), Clayton (on for Callaghan), Bramall (on for Harrop) and Bahkti (on for Mukendi).
(pic courtesy of Simon J Newbury Photography)