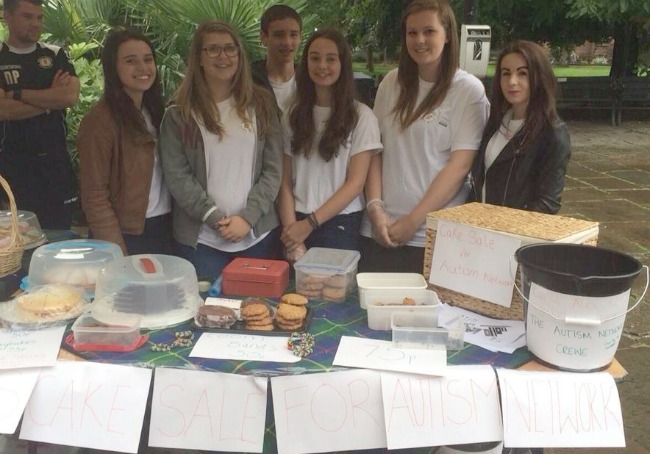 Young volunteers have been raising vital cash to help Nantwich and Crewe children with autism.
The Crewe Alexandra National Citizen Service (NCS) team is completing a Social Action project in Crewe.
They are raising money for Autism Network – a small Crewe-based charity which helps make the lives of parents and carers of autistic children easier.
Charity volunteer Harrison Lunt said: "For the final two weeks we take part in a Social Action project, where we are required to fund-raise and then volunteer at a local charity.
"Although we need the money as soon as possible to help with our transformation of the Autism Network building, any funds raised afterwards will continue to go to the charity.
"It is close to heart for a few of our team members, and we are all very passionate about their work."
So far the team has raised £430, and have held a bake sale in Nantwich market, and have also contacted O2 for funding.
NCS is a UK-wide initiative run by the Government, which ends on August 22.
"We chose Autism Network because they are a local charity and do not have much publicity or funding," added Harrison.
"So our fundraising and volunteer work will go a very long way to helping them, unlike some other larger charities that receive the publicity and funding they need.
"They are also a worthwhile cause as they help not only children with autism but also the parents and carers, as many families that suffer with an autistic member don't receive the information they need and can feel very alone."
Next week, they will be painting the interior of the centre and refurbishing the outdoors into a Sensory Garden to make it more of a friendly environment for the children to go outside and play in.
"We are asking for your help to make this possible and improve the area we live in as well as encourage other young people to get involved with volunteer work and community projects," said Harrison.
To encourage people to donate and help raise money, they have created a gofundme page at http://www.gofundme.com/ncs-ac.
More information about the Autism Networks can be found at http://www.autismnetworks.org.uk/
More information about the NCS project can be found at http://www.ncsyes.co.uk/