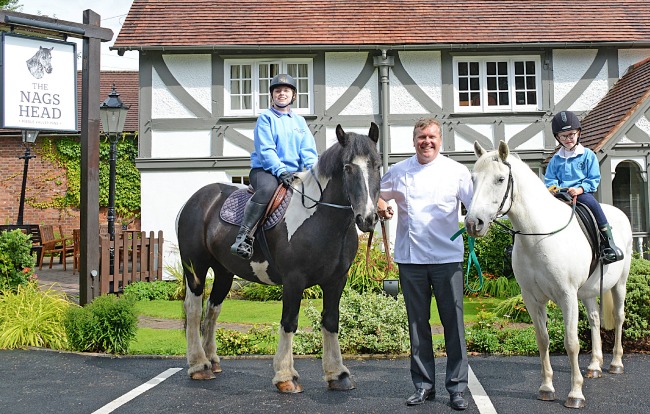 Young members of a Cheshire riding school for disabled have put a local celebrity chef firmly in the saddle!
Mid Cheshire Riding for the Disabled Group introduced horses to Nigel Haworth to launch a charity fundraiser at his new restaurant The Nag's Head, near Nantwich.
The pub, which opened six weeks ago, is now hoping to help local causes and has chosen the riding school as its charity of the year.
And since its opening, 20p from every cover sold has been donated to the cause.
Now The Nag's is launching its first annual fundraising dinner in aid of the group.
Nigel welcomed a couple of the group's star riders Archie Pilkington (7, from Little Bollington) and Megan Wilkinson (17, from Winsford)  to the Nag's, in Haughton Moss.
"It was great to meet Archie, Megan and the horses!" said Nigel.
"We're absolutely delighted to be working with the Mid Cheshire Riding for the Disabled Group.
"We went to see the organisation in action and were in no doubt that we wanted to support them.
"It's such a small charity but what they provide is huge – it's very inspiring and I look forward to seeing how the cash we raise for them can add to what they do.
"Chef Mikey and I will be making sure that the dinner itself is a celebration of this region's finest food."
Based in Ollerton Mid Cheshire Riding  for the Disabled is a local organisation catering for riders with a variety of disabilities, both physical and learning.
Experienced riding instructors and helpers provide a professional and friendly environment where riders can enjoy their riding experience, progress and make friends.
Pamela Rigby MBE, chairperson of the group, said: "We're very happy about our partnership with the Nag's Head – we like to keep a high profile, as our group does help so many people.
"Horse riding's a democratic sport that everyone can join in, and every single rider we see enjoys and progresses in their own way.
"I've been involved in this for 35 years and I get to see the real benefits that horse riding has for everybody.
"The funds and profile of being involved with Nigel and his team will help enormously and we're looking forward to the dinner – friends of the group have already booked in!"
Archie added: "This pub makes the best chips ever!"
The fundraising meal – An Evening with Nigel Haworth and Cheshire's Finest Producers – will take place on September 18 at The Nag's Head.
They will be serving a three-course dinner showcasing the very best of Cheshire food and drink.
There will be a champagne reception, raffle and silent auction.
Tickets are priced at £35 with £10 donated to the Mid Cheshire Riding for the Disabled.
Tickets are now on sale and available from The Nag's Head. Customers should call the restaurant to book, 01829 260265.