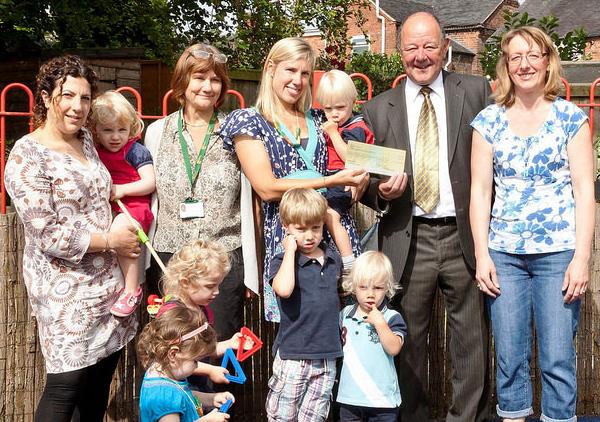 A new group to help Crewe & Nantwich parents cope with multiple births, has earned grant funding from Cheshire East.
The group was set up just a few months ago by local mums Felicity Walker, Sally Hall and Angela Lecroy.
They wanted to offer support to families who have or are expecting twins or triplets.
Cheshire East's Cllr David Brown visited the group in Shavington to present an activities grant worth £500 to help the club continue.
"We only know too well the joy and struggles of raising multiples," said Felicity, who has twin boys Oscar and Jack.
"We wanted to form a weekly group that could offer parents support and friendship and enable babies, toddlers and pre-schoolers to play in an environment that is safe and rewarding."
In 1984, the multiple birth rate was 7,353 in the UK. In 2012 it had risen to 12,466, according to the Office for National Statistics.
Many put it down to healthier lifestyles and eating and successful IVF treatment.
"This all looks positive and encouraging," added Felicity, from Haslington.
"But caring for two or more babies is hard work.
"For some women, the extra pressure of coping with more than one baby can lead to post natal depression.
"This doesn't mean you'll definitely get depressed after having your babies, but there are good reasons why mothers of multiple births can be more at risk.
"Caring for two babies is hard. You constantly have to split your time and attention between them, and cannot give them the same type of care you would a single baby.
"This is perfectly natural and coping with two or more babies takes some time to get used to."
Fellow group organiser Angela Lecroy, from Hough, and mum of twins Isabella and Sophia, added: "I felt so overwhelmed.
"I was delighted at the arrival of my twins but so daunted at the prospect of how to care for more than one baby at once.
"Since attending Peapods, I feel supported. It's great having people in a similar position to talk to, share concerns with and gain advice from."
And Sally Hall, from Weston, who has twin girls Evie and Samantha, added: "Having twin babies can be quite an isolating experience.
"Personally I have found the local twins group to be a lifeline, especially during the first 18 months of my twin daughters' lives."
The group meets every Tuesday at Shavington children's centre, on Southbank Avenue.
The playgroup session runs between 10am to 11.45am and is open to expectant parents of multiples to families and carers of multiple babies, twins and pre-schoolers.
The sessions are £2 per family and include free flow play inside and out and appropriate activities and crafts.
Snacks are included for children and families/carers.
It is also open in school holidays.
For more details visit the Crewe & Nantwich Multiple Birth Club Facebook Page or their website www.crewenantwichmultiplebirthclub.weebly.com