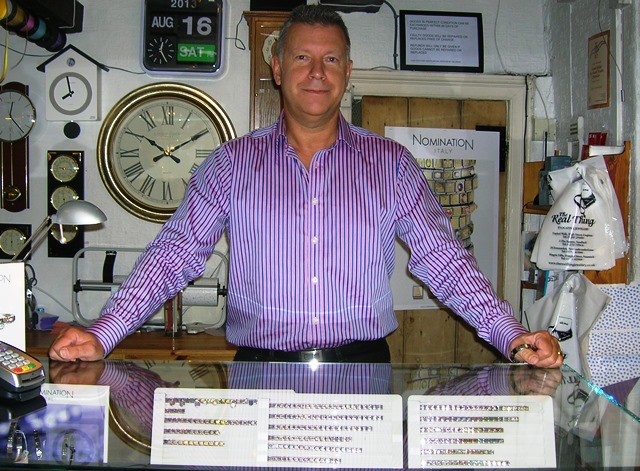 A Nantwich store will be the first in South Cheshire to stock the sought after Nomination jewellery.
The hand-crafted bracelets and links made in Florence, Italy, are proving a massive hit across the UK.
Now Mark Robinson, who owns Magpie Gifts on Hospital Street, has agreed a £13,000 deal with the manufacturers to stock the range.
Nomination jewellery allows owners to build bracelets by buying and switching mini tiles which make up the bracelets.
And Mark, who runs four shops with his wife Catherine, was excited to become the first stockist in the area.
"It's really amazing stuff and I think it will be a massive hit," he said.
"I spoke to stockists around the UK and they said I had to offer it."
Nomination bracelets can be bought with the first tile for as little as £29.
There are thousands of other tiles available to buy to make and change the style of individual bracelets.
Mark has just relaunched Magpie Gifts with a new website and a rebrand to link to his three other shops, called The Real Thing.
As well as Nantwich, they have The Real Thing stores in Newcastle-under-lyme, Sandbach, and Congleton.
Catherine started the business 30 years ago with just £50 worth of beads in Warrington.
They moved to South Cheshire after selling beads at craft fairs, and opened their first store in Congleton.
This proved a success so they opened in Sandbach, and then Nantwich 12 years ago. Newcastle followed four years later.
Mark joined the business 12 years ago when they first opened Magpie Gifts.
"I was a sales director for a PLC at the time so it was a bit of a departure from a regular income, company car and sales team," he recalls.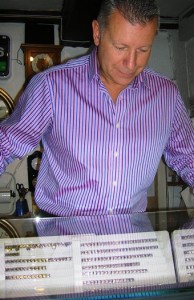 "But I can honestly say I have never regretted going self-employed for a minute!
"We travel all over the world to find unusual jewellery to sell – we're off to the Far East at the start of September – and this year have been to jewellery fairs in Italy, France and Germany."
And it was in Italy that they fell in love with the next big range – Nomination.
All pieces are made in Florence, most links have Swarovski crystals, real gem stones and/or 18ct gold or sterling silver on them.
But they still only cost an average of £20 each.
"The agent was most explicit,  pointing out that the company refuse to plate metals," added Mark.
"So where you see gold, it's actually a thin piece of 18ct gold that they have fused onto the stainless steel base so it's hard-wearing.
"The idea of Nomination is that it is the modern charm bracelet – you can change the look and colours of the bracelet by adding or subtracting different coloured links from your bracelet.
"What differentiates it from other makes is that you start with a full bracelet for £29 – composed of your full bracelet and 1 link.
"You end up with a full bracelet, and you have a full bracelet all the time while you decide what links to put in it!"
Mark has invested £13,000 in importing a large stock and display counter with hundreds of links to choose from.
"A real bonus is that Nomination do a gents range, which is more masculine than the ladies and has been a real hit for men who would not normally wear jewellery," added Mark.
Magpie Gifts (in association with The Real Thing) is open six days a week (closed Sundays) from 9.30am to 5pm daily.
For details visit their new website www.therealthingjewellery.co.uk, or email [email protected] or [email protected]