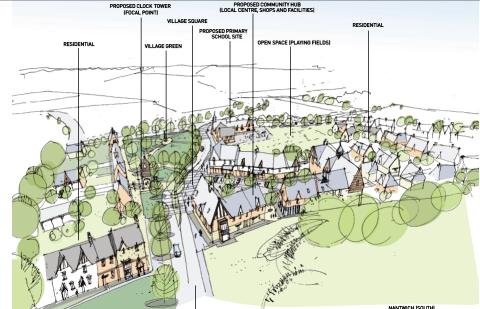 The Government has delayed again a ruling on the controversial Muller Homes' bid to build 1,100 homes on green fields in Stapeley, Nantwich.
A report from a public inquiry into Muller's appeals was presented to the Secretary of State earlier this year.
And the Government said it was expected to announce a decision on September 1.
But now this target date will not be met, according to Stapeley Parish Council.
The appeal ruling concerns two applications. One is the first 189-home phase of the 1,100-home "Nantwich South" village on land between Audlem Road, Broad Lane and Peter de Stapleigh Way.
The second application was for an access road to the development off Peter de Stapleigh Way.
The four-day public inquiry was held in February in Crewe, with the eventual report compiled by the Planning Inspectorate sent in to Government for consideration and final ruling.
A spokeswoman for Stapeley Parish Council said: "The Secretary of State has now stated he is unable to meet this revised target date of September 1 and will issue his decision as soon as he is able "in the near future".
Sandy Gwinn-Freemantle, chairman of Stapeley Parish Council, said: "We are disappointed that there is to be yet a further delay.
"Parish councillors, along with residents, are most anxious to have this matter finalised.
"The uncertainty is unsettling for all. We will keep everyone updated.
"In the meantime, I would like to thank residents who have supported the parish council's stance in this matter."