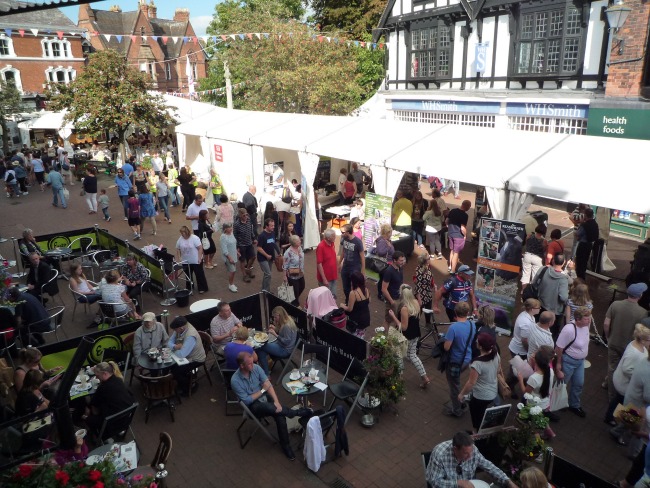 Organisers and retailers in Nantwich have hailed this weekend's Food and Drink Festival a massive success.
Tens of thousands of visitors have flocked to the town centre over the last three days.
With fine weather and record numbers of exhibitors and entertainers, the festival generated a fabulous atmosphere throughout.
Marquees were packed with visitors at the main festival locations in the town square, Bowling Green car park and Love Lane car park.
But there were many more event areas around the town, including the popular Man v Food event jointly run by Clewlow's Butchers, Chatwins bakers, and Coral fish and chip shop.
Joe Jones was crowned the winner after clearing his plate of a mammoth 3lb Dabber's sizzler sausage in a Chatwin's bun and Coral chips.
He won a trophy and £100, with money from the event donated to St Luke's (Cheshire) Hospice.
There were also gourmet food halls, chef demonstrations, entertainers, children's activities and live music at venues across the town.
Cafés, pubs and shops also took part in the festival, with many enjoying large customer numbers.
A park and ride facility was available from various locations, and venues like Brine Leas School also devoted parking for the event.
The thousands of visitors were treated to sunny weather during the festival.
Chairman of the festival committee Deborah Robb paid tribute to all the volunteers who helped to stage the event when she officially opened it on Friday evening.
She said: "Without their help, none of this would be possible."
High Sheriff of Cheshire Susan Sellers was among the dignatories at the opening with MP Edward Timpson, Nantwich Mayor Christine Farrall, and Town Crier John Parsons.
Mrs Sellers said: "I was amazed to learn that this festival is entirely run by volunteers.
"They work all year to put this event on. Volunteering is hard work but a lot of fun.
"This was the biggest festival yet with so many different things going on. It is an incredibly impressive achievement to get this event on."
Shaun Cafferty, who represents businesses in Nantwich, said: "A big well done to the Nantwich Food Festival organisers and helpers for a fantastic weekend in town.
"It's so big and well organised that it's easy to forget that it is staged by a team of volunteers who give up their spare time to make this happen for the good of the town.
"They get all of the grumbles but few of the plaudits, it's a massive achievement. Well done!"
(Pictures courtesy of Jonathan White)