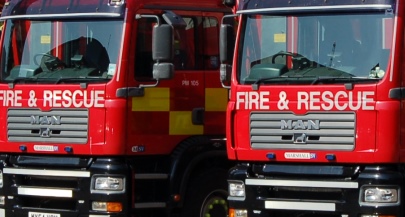 Fire officers will be in Nantwich on Monday to promote Fire Door Safety Week in a bid to save lives.
Cheshire Fire and Rescue Service is supporting Fire Door Safety Week (September 15-21).
They will be in the town on September 15 to raise awareness around the critical protection specialist doors provide.
Crews are very aware of how fire doors can prevent a blaze from spreading after an incident in Tarvin this year.
The property had fire doors fitted in an annex where the fire occurred.
These doors were closed and did their job in keeping the fire contained to the room of origin.
The owner of the property said: "I can't believe how effective the fire door was at containing the heat.
"The garage is completely destroyed but there was no damage to the summer house, it will just need redecorating.
"I hope our case shows people just how effective fire doors are."
Keith Brooks, head of prevention and protection at Cheshire Fire Service, said: "This case was a perfect example of how important fire doors are when a fire breaks out, both in the home and the workplace.
"They play a critical element in saving lives and property and should never be propped open.
"We would advise people to also get into the habit of closing all doors as a matter of course to prevent fire spreading and at the first sign of fire get out and call 999."
Fire Protection staff will be in the Nantwich area from 10am until 4pm on September 15 and will be offering safety advice and information about fire doors.
This includes the '6 Sense' steps:
1. PLAN – plan your easiest escape route
2. TEST – fit a smoke alarm and test regularly
3. CHECK – check all appliances before going to bed or leaving the house
4. CARE – never leave cooking unattended
5. CLOSE – close doors at all times – this can prevent fire spreading
6. CALL – get out and call 999 at the first sign of fire
For more information please visit www.cheshirefire.gov.uk