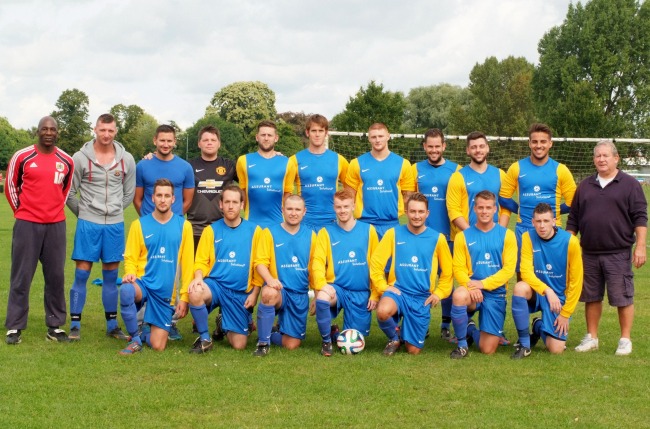 Railway Hotel won the battle of the 100% records with a 6-1 win at FC Semtex in the Premier Division of the Crewe Regional Sunday League.
Jez Tagg and Lee Mellor bagged a brace of goals each in the rout in which Semtex were reduced to 10 man after a first-half red card.
Martin Bostock replied for Semtex, who remain top of the league but have played two more games than Railway.
Sydney Arms kept up the pressure with a 5-2 win over AFC Leopard thanks to goals by Wilkinson, Pownall, Daintith, Tomkinson, and Bowyer.
Mike Blundell bagged both goals for Leopard.
Crewe Athletic beat Talbot 4-1 to move up to fourth in the table thanks to a Nathan Tickle hat-trick, Dale Broadfield also scored with Matty Verling scoring the consolation for Talbot.
AFC Barkode and NHB shared six goals in a 3-3 draw. Mike Walton (2) and Tom Barker scoring for Barkode with Dan Ball, Alex Ball and Henry Buckley replying for NHB.
Ocean and Square One drew 0-0.
In Division One, Wistaston Athletic maintained their 100% start to the season with a resounding 7-0 win at Audlem.
Leo Davis netted a hat-trick, Jordan Smith grabbed two, and Tom Collins and Daniel Cotton completed the scoring.
The other two 100% teams Rising Sun and Faddiley maintained an unbeaten start by drawing 2-2.
Rising Sun came back from 2-0 down at half-time with two goals in three second half minutes, although there was some controversy with the equalising goal as to whether it had crossed the line.
Neil Bate and a Matt Scott free kick had given Faddiley the half-time lead.
Leighton (Tom Edwards 2, Dave Furber and Antony Roe) beat Boot & Shoe Villa (Anthony Pye) 4-1.
Bank Corner edged out Rookery Tavern 4-3 with Matt Ravenscroft among the goals again, Dan Baynes (2) and Chris Hackney also scoring.
Salvador came back from 1-0 down at half-time to beat Nantwich YF 4-2 with Dave Ratcliffe scoring twice for the second week running, Keiron Banks and Sam Foster also scored with Richard Ford and Alyie Saunders scoring for the Farmers.
Santa Maria (Dom Latham 2, Mark Wright and Ade Socha) beat Sandbach Town (Dunning) 4-1.
Dec Stubbs scored two second-half goals as Haslington came from 1-0 down at half-time to beat Crewe FC 2-1. Nathan Quinn had given Crewe FC the lead.
(Pic: Railway team, back row – Dave Maynard, Adam Smallville, Karl Gibbs, Wes Newton, Ricky Barlow, Matty Hole, JJ Bailey, Matty Cope,Tommy Finch, Danny Lavalatte, Andy Gibbs, front row Jez Tagg, Darren Vickers, Gaz Brookes, Ryan Williamson, Stuart Evans, Liam Jones, Craig Harris)