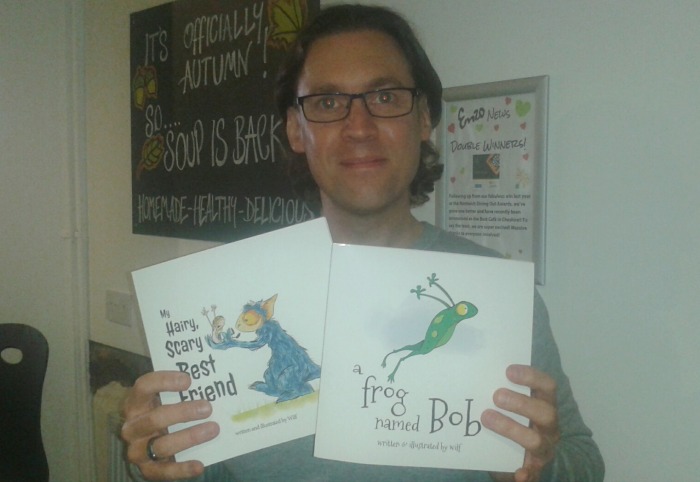 A Nantwich cartoonist is forging a new career as a children's author after successfully publishing two books.
And Mark Wilcox has his friends to thank – after an innovative use of social media helped him write his stories.
Mark, 44, who has worked in IT most of his life, has been a hobby artist for many years and re-discovered the joy of drawing as a means of coping with a divorce.
And when he began sketching customers at his favourite coffee shop Enzo, in the town square, a new career was born!
"I shut myself off after the divorce, wasn't going out and meeting people, and I felt depressed," Mark said.
"I had to force myself to go out and I sat in Enzo on my own, and soon discovered no one was bothered that I was in there by myself.
"So one day I just started to sketch using software on my ipad, and it went from there."
Mark's drawings drew admiration from customers and staff at Enzo, so he decided to post them on Facebook under his new venture, Art By Wilf.
And he was taken aback by the amazing response.
"I started to get requests, so I grew in confidence," he added.
"I also got invited to other coffee shops and stores and did staff and customers.
"I started to get attention. I thought of myself as a bit of a 19th century Renoir in cafe society!"
Soon after he drew a children's character "A Frog Named Bob" and an idea for an illustrated storybook popped into Mark's head while he sat in Enzo.
"I threw the idea open on social media to friends and I received a ton of feedback, telling me to try this and try that," he recalls.
"I knew then I was on to something. So this helped me to put the story and the ending together."
The result was a self-published book which came out in the summer and has proved a big hit in local bookstores and which was also spotted by major publishers.
From the idea to being published took him just three weeks!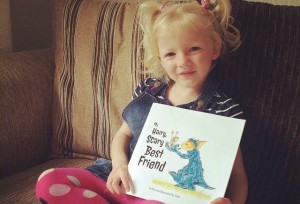 "I took some to Steve in Nantwich Bookshop and they loved it, he saw me a few days later and asked for some more as it was so popular!"
It's now being read as afield as America after families sent the book across the Atlantic.
Now Mark has produced a second book, a story about a young girl who's best friend is a monster living under her bed.
"I went through the same process putting it out on social media, as I had great suggestions for the story and a name for the little girl," he adds.
"I asked parents to get suggestions from their kids on a name for the monster.
"I had more than 50 suggestions, and a young girl called Olivia Booth (pictured, above) won the competition to name the monster, with the name Milo!"
The latest book, "My Hairy, Scary Best Friend" is now released and is already being read around the country after publishers picked up on it.
"It has been a huge amount of fun, especially getting kids and their parents involved," Mark added.
"The books seem to be popular, and I have another one in the pipeline, but a lot more work has come about on the back of this, too!"
Mark is now looking to take his art in to schools to show children how they too can draw their own cartoon characters and illustrate their own stories. To find out more, visit www.artbywilf.com/workshops
Mark's books are available from Amazon A Frog Named Bob and My Hairy, Scary Best Friend
You can find out more about Mark and his work at www.facebook.com/artbywilf