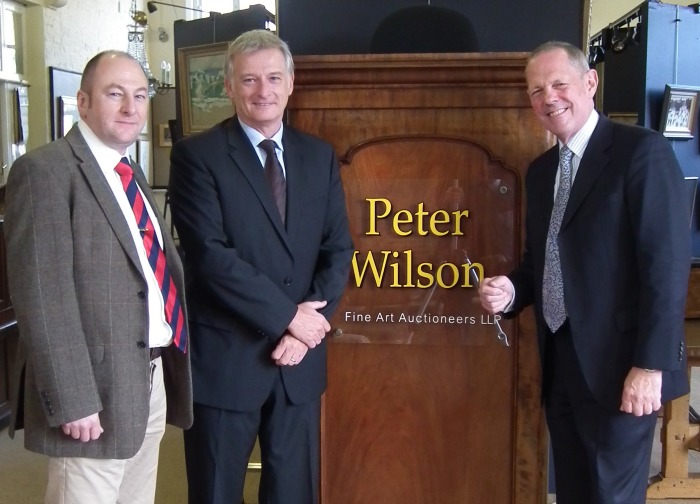 Nantwich auctioneer Robert Stones is to take over the hammer at renowned North Staffordshire fine art agents Louis Taylor Ltd.
Mr Stones, owner of Peter Wilson auctioneers in Nantwich, has acquired the rights to trade as Louis Taylor Fine Art Auctioneers Ltd with immediate effect.
The move does not affect Mr Stones' Cheshire business, the company has said.
Louis Taylor director Patrick Doherty said: "The retirement of our auctioneer Clive Hillier coincided with the end of the lease on the old basement saleroom at 10 Town Road Hanley.
"We are keen to ensure our fine arts clientele continue to receive the expert advice and integrity of service they expect of Louis Taylor.
"Robert will soon be holding weekly valuation days in Hanley as a service to Louis Taylor clients old and new, and will quickly establish a new saleroom in the Potteries, whilst continuing to trade as Peter Wilson in Cheshire.
"Robert and I worked together many years ago, and I have nothing but admiration for the way in which he has developed his business.
"I am sure the Louis Taylor Fine Arts brand will go from strength to strength with him.
"We look forward to a long and successful association with Robert and his team."
Mr Stones said: "Louis Taylor's auctions serve an area steeped in the history of ceramics manufacture among other things and I know its customers and supporters would want the firm's long tradition of auctioneering excellence to continue.
"I am honoured to have the opportunity to make that happen.
"We have already recruited staff to handle enquiries and valuation duties in the Potteries and surrounding area and look forward to opening a brand new Louis Taylor saleroom as soon as suitable premises have been located and secured.
"In the meantime, antiques, fine art and collectors' items sent for sale by Louis Taylor's clients will be sold in Nantwich.
"However, the two firms will continue as separate entities in their own rights."
Mr Stones is known to many from his regular TV appearances on Bargain Hunt, Antiques Road Trip and David Dickenson's Real Deal.
(Pic: Louis Taylor directors Graham Hulse and Patrick Doherty with Robert Stones)