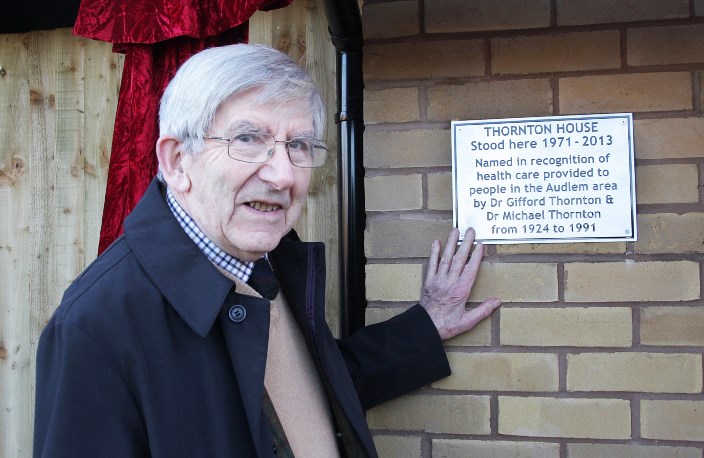 A father and son have been honoured by developers of a new South Cheshire housing scheme.
Wulvern and Seddon, who are behind the 10-bungalow Emberton Place project in Audlem, have unveiled a plaque dedicated to two of the village's most cherished residents.
They have paid tribute to Dr Gifford Thornton and his son Dr Michael Thornton, who tended to the medical needs of people living in the village for almost 70 years.
The new homes, for residents over 55, have been built on the site of the former Thornton House sheltered accommodation which was opened in 1971 and was named in recognition of the doctors' service to the village.
Emberton Place residents wanted to find a way to keep the Thornton name in the new development and proposed a commemorative plaque.
Dr Michael Thornton, now 86, unveiled the plaque with representatives from Seddon and Wulvern, and local residents.
"I grew up in Audlem and worked in medical practice alongside my dad until he retired.
"I then carried on until retiring myself in 1991," he said.
"We have lots of friends in the area, and I was very touched when the Emberton Place residents got together and suggested the Thornton name should remain in the new development, though Thornton House itself is no longer there.
"It is very humbling."
Dr Thornton was accompanied at the unveiling by his wife, Margaret, who for many years cooked lunches at Thornton House for the village's elderly people alongside other Women's Royal Voluntary Service volunteers.
Ian Calder, regional manager of Seddon, said: "We hope the homes at Emberton Place serve the community as well as Doctors Gifford and Michael Thornton."
(Pics: Dr Michael Thornton pictured with the plaque unveiled at Emberton Place; and (L-R) Ian Calder, of Seddon; Dr Michael Thornton and his wife Margaret; Adele Sumner, at Wulvern; and Mark Churms, Seddon)