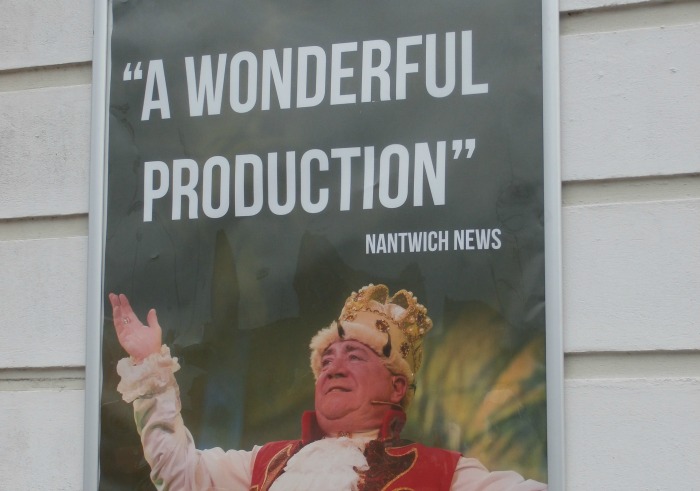 It's been a busy Christmas week for everyone in Crewe and Nantwich – none more so than for the cast and crew of 'Jack and The Beanstalk' panto.
The show is currently wowing packed crowds at the Lyceum Theatre in Crewe.
So it was with some relief the chance to interview the stars Lisa Riley and Brendan Sheerin offered an excuse to avoid the shopping frenzy!
Both performers are extremely welcoming, down to earth, full of smiles and laughter.
They're quite clearly the best of friends who enjoy working together and being in each other's company.
I was lucky enough to have been at the opening night for 'Jack and The Beanstalk' and it seemed the cast had a fantastic time on stage.
But is it as exciting being in a panto, as it is watching one?
"It's amazing!," replied Lisa, who plays 'The Fairy'.
"It's great fun and this year has been just brilliant.
"The response has been just fantastic from everyone you see.
"Walking in town, people come up to you and say hello."
Brendan, who plays 'King Crumble', agrees.
"You see people looking at you in the street, and when they recognise you they come over and say what a great time they had at the show.
"It's lovely, and panto is such a great British tradition.
"Everyone around here has been great.
"We've been looked after very well be everyone in Crewe, and the Edwardian theatre is lovely."
Being so busy with panto, it's a wonder they have time to get ready for Christmas.
"Oh yes, people forget, but Christmas Day is a day off work for us," says Lisa.
"I'm ready because I'm not cooking anything!
"I'm going to spend the day with my family at a lovely hotel near Manchester, it's going to be fab."
And does Santa have time to visit panto stars – providing they've been well behaved?
"Of course," says Lisa, as they both start to giggle.
"I've been looking after Lisa, making sure she's been good," adds Brendan.
Lisa has been busy this year and is appearing in the Christmas Strictly special for the BBC.
A contestant in 2012, Lisa was partnered with Robin Windsor.
"The Strictly experience is amazing.
"Robin, who I was partnered with, came to see the panto here, we're great friends, honestly he's like my little brother."
So would Brendan like to follow in Lisa's footsteps and do Strictly?
"Well, I'm always filming for 'Coach Trip," he says.
"Yes, yes, yes…" says Lisa.
"Let's start a campaign to get him on, he'd be brilliant!"
Brendan is better known as the host of 'Coach Trip' – an entertainment and travel show for Channel 4.
So if he could choose anyone to go on a coach trip with him, who would he pick?
"Robin and Lisa, definitely!
"We'd need some music, so maybe One Direction as well, who do you think Lisa?"
"David Beckham!" says Lisa.
"Oh yes, Victoria and the kids as well, let's see how they'd do on the coach," laughs Brendan.
With time ticking by, Lisa and Brendan need to get ready for their latest performance.
"We'd like to wish everyone a Merry Christmas," said Lisa. "And thank everyone for their support".
With Christmas wishes exchanged, and excitement building for the next show, I rejoin the shopping frenzy feeling like I've left two new friends behind me.
'Jack and The Beanstalk' is on at The Lyceum theatre in Crewe until January 4.
For show and ticket details, visit www.crewelyceum.co.uk
(Pictured below: Lisa Riley and Brendan Sheerin, pantomime launch at Bridgemere – pic by Wes Webster Photography)