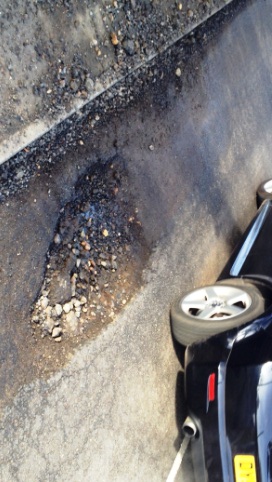 Villagers and councillors in Willaston have welcomed re-surfacing plans on two key roads.
Wistaston Road and Wybunbury Road, two main routes through the village, will undergo work to repair potholes and uneven surfaces.
The roads have been included in Cheshire East Council's 2015-16 highway investment programme.
Willaston and Rope Ward Cllr Brian Silvester said: "Along with the Parish Council, I have been campaigning for Wistaston Road and Wybunbury Road to be resurfaced.
"They are two of the main routes through the village and are heavily used.
"As a consequence there are many potholes and much damage to the roads so the sooner the resurfacing is done the better.
"The roads are to be micro asphalted – a 25mm thick bitumen slurry over the existing surface to provide a new running surface.
"It is designed to reseal the existing road surface, fill in the cracks and level out any divots to produce a smoother ride."
A number of other roads in Nantwich and surrounding villages have been included in the 2015-16 investment programme.
It means the following roads will undergo full resurfacing, micro asphalt, or surface dressing:
A530 Middlewich Road, Marshfield Bank to Sainsbury Roundabout, Worleston
A534 Wrexham Road, Brunty Bank to Borough Boundary, Bickerton
UX1698 New Road, Pinsley Green Road/Marbury Road to Cholmondeley Road, Wrenbury
A525 Whitchurch Road, Shropshire Lane and Whitchurch Road to Whitchurch Road and Lodmore Lane, Dodcott cum Wilkesley
UX1693 Ikey Lane, full extent, in Burland
C535 Checkley Lane, Checkley Green to Checkley Lane and Turncocks Lane, Checkley cum
Wrinehill
C535 Checkley Lane, London Road and Birchall Moss Lane to Checkley Lane and Checkley Green, Checkley cum Wrinehill
B5071 Bridge Street, Wybunbury Road and Back Lane to Main Road and Wrinehill Road, Wynbunbury
C511 Nantwich Road, Higginsfield Road/Fir Tree Lane to Chorley Hall Lane, Chorley
C531 Sheppenhall Lane, Sheppenhall Lane and Back Coole Lane to Sheppenhall Lane, Newhall
C531 Sheppenhall Lane, Sheppenhall Grove to Whitchurch Road and Wrenbury Road, Newhall
UY1428 Dodds Green Lane, A530 Whitchurch Road to A525 Whitchurch Road, Newhall
C525 Long Lane, Junction of Winsford Road (Boot & Slipper pub), for a length of 511
metres to St David's Church, Wettenhall
C519 Calveley Green Lane, School Lane to Winsford Road, Wardle
B5338 Crewe Road, Peacock Roundabout to Millstone Lane, Nantwich
C531 Wrenbury Road, Pinsley Green Road to the A530, Newhall