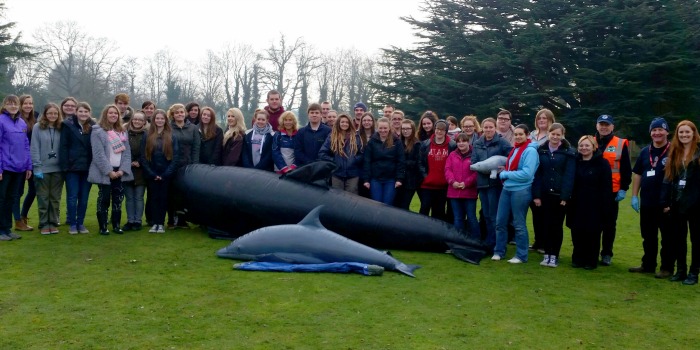 A beached whale and several dolphins and seals were rescued from the front lawn at Reaseheath College in Nantwich.
The simulated emergency was staged to help 37 animal management students gain an internationally recognised qualification in wildlife rescue.
The one-day course was offered to degree students and to Access to HE students studying science or animal management.
It involved lectures and then practical instruction using inflatable life sized models.
All students achieved their British Divers Marine Life Rescue "Marine Mammal Medic" certificate.
The training day was organised by Higher Education Course Manager Kizzy Beaumont and was the third time Reaseheath has offered it to students.
It proved so popular, Kizzy is planning a follow up 'wet' course on the coast, when students will get hands-on with the rescue of a live marine mammal.
Josh Bufton, a Zoo Management student, was spotted for his talent by the instructors, who suggested he should widen his knowledge by gaining an advanced qualification.
Josh, who hopes to work with marine species in the future, said: "This has been a great opportunity to gain a qualification which will help me to decide what sector I'd like to work in.
"The course was extremely informative and the instructors were very professional.
"I would really recommend the training to all students who enjoy learning about marine mammals."
Jayne Dobner, one of the Marine Mammal Medic instructors, was a Reaseheath Level 3 agriculture student in the 1980s and had not visited the campus since.
She said: "It's great to be back.
"The campus looks a lot more modern than when I was here, but it still has the same friendly vibe!"
(Pic: Reaseheath Higher Education animal management students enjoy their marine mammal training on the front lawn)