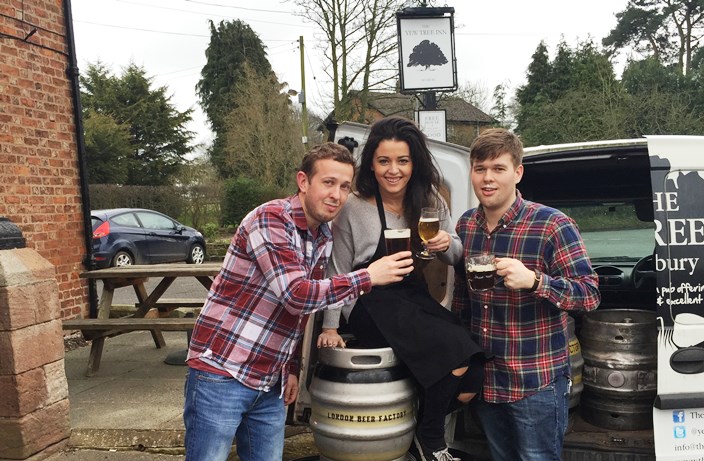 The award-winning Yew Tree Inn at Spurstow, near Nantwich, is staging an Easter weekend of beer and music.
Pub licensee Jon Cox has combed the land to gather an array of 20 cask and craft keg ales alongside top live music and culinary specials.
The brewery line-up includes Scotland's Windswept of Lossiemouth, Nine Standards from North Yorkshire, Springhead of Nottinghamshire, Mad Hatter of Liverpool, Sunbeam of Leeds, Oxfordshire's Loddon, Salford's First Chop, Bingley Brewery and Wiltshire's Box Steam, and the capital's Brick, Caveman, Portobello and recently launched London Beer Factory.
Music kicks off tomorrow (April 2) with soloist Amber Prothero, a talented young female artist from Tarporley soon to release her first album.
Good Friday sees a performance from The Mac Brothers, from Liverpool, who made it to the BBC's The Voice, followed by The Beard Band duo on Easter Sunday.
Twice voted 'Pub of the Year' by the Marketing Cheshire Awards, the Yew Tree has earned praise in the Camra Good Beer Guide and other top food and drink guides – including Michelin and Sawdays.
It was relaunched by Jon and Lindsay Cox in 2010, and is currently a finalist in the GQ magazine Best Pub Awards.
Jon said: "We support local ales the year round, but for Easter we are bringing in delicious brews from around the UK, with several rarely seen in Cheshire.
"This year we have hunted out beers from some of London's acclaimed new wave brewers along with a fine selection from the north.
"Once again we embrace the new often stronger'craft keg' brews, which we offer in third pint glasses.
"We also have a top line up of musical talent from the area, including Tarporley's own very talented Amber Prothero."
The festival runs from Thursday evening until Easter Monday night.
Entry is free with beer discounts for Camra (Campaign for Real Ale) members.
It is the Yew Tree's fifth Easter festival and since 2010 more than 450 cask-conditioned beers have appeared on the bar.
(Pic: Easter Beer Hunt – Yew Tree landlord Jon Cox (left) returns from a beer hunt to raise a glass to the Easter Beer Festival with bar worker Sophie Rowlands and assistant manager Myles Carr)