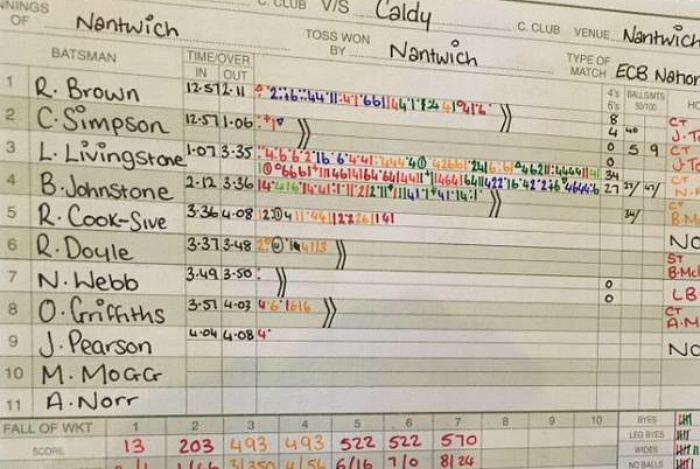 Nantwich Cricket Club's scorer faced a battle of his own as all-rounder Liam Livingstone batted his way into the record books.
Steve Bebe had the job of marking the scorecard as 21-year-old Livingstone smashed an astonishing 350 runs off just 138 balls at Whitehouse Lane.
And Steve, who has been involved in the club for 10 years, said he was grateful that technology has made his job easier!
"I'm just pleased I do the scoring on the computer now," he told Nantwichnews.
"Because if I was still doing it the old fashioned way, I wouldn't have been able to keep up!
"I would have run out of ink!
"It's much easier clicking a mouse that's for sure, but I still had to concentrate on everything."
As spectators and players alike watched in wonder as Livingstone's innings against Caldy CC unfolded, Steve had to keep his mind firmly on the job, as did Caldy CC's scorer who used the traditional pen and paper method (pictured, above).
Livingstone, a member of Lancashire CC, hit 34 fours and 27 sixes, sending at least 16 balls out of the ground and into the nearby cemetery!
"At first it was just like any other game," Steve added.
"Liam has hit many a top bowler for plenty of runs at Whitehouse Lane, but when he reached his century off just 47 balls you could sense something special was on the cards.
"It was only during the drinks break when a few of the other Nantwich lads playing said to me he and the club could break all kinds of records.
"Liam just carried on as normal hitting the ball all over the ground.
"We actually ran out of balls after so many had been dispatched into the adjacent cemetery and field that it took most of our team and spectators to go looking for them.
"I think it was 16 lost balls in total with probably more then half that have yet to be found!"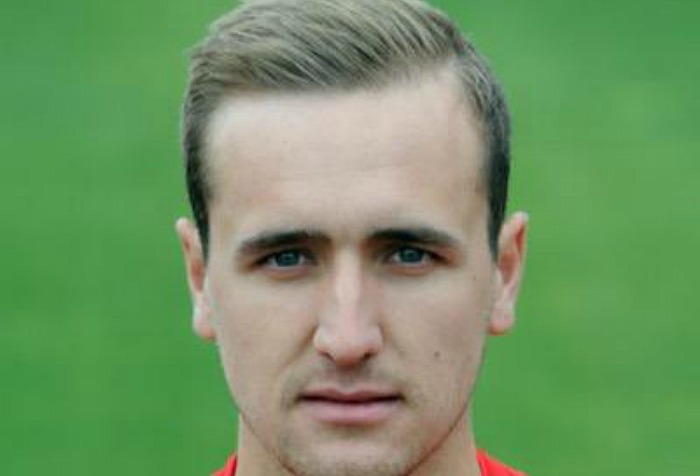 Livingstone, who also played for the Dabbers last season, admitted: "From 100 onwards, I was just trying to whack every ball for six.
"When I got into the high 200s and into the 300s, I realised that something quite special could happen."
Nantwich CC chairman Wayne Morgan said: "I never, ever thought I'd see anything like that at Nantwich!"
Steve also paid tribute to Nantwich's opponents Caldy, who were bowled out for just 79, losing the game by a staggering 500 runs.
As the news of his effort spread across the sporting world, the England and Wales Cricket Board believe the 350 is a world record score for any one-day cricket match, beating a previous record of 334 set in India.
But today, this has been challenged by some who say Shazhad Malik scored 403 for Langleybury CC in the Bertie Joel Cup in 2005.
"It was a truly remarkable day," he added.
"I've got to give huge credit to the Caldy CC lads who were top class, they gave it their all from the first ball until the last. A great bunch of lads."