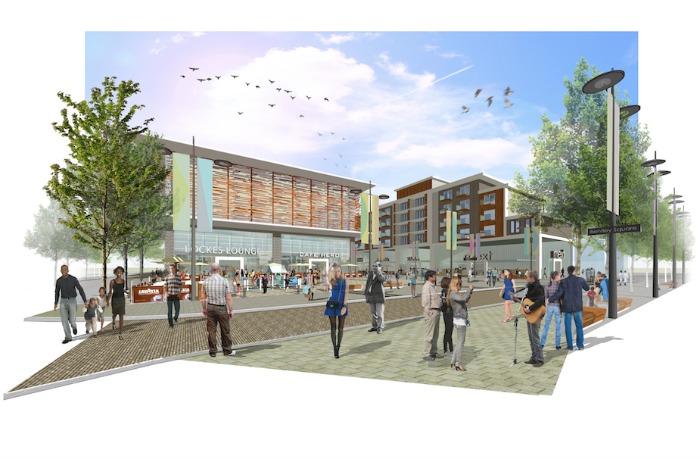 Crewe town centre could undergo its biggest revamp in years after council chiefs moved to buy the rundown bus station and neighbouring shops.
The area could be turned into a larger cinema, restaurants, a hotel and new bus interchange, it has emerged.
Cheshire East Council has contracted to purchase the Royal Arcade site which includes the bus station and 26 units along Queensway and Victoria Street.
The decision on the acquisition was reported to the Council's Cabinet meeting today (April 21).
It follows years of speculation since plans for the Delamere Place retail and office scheme stalled in 2009.
Caroline Simpson, executive director of economic growth and prosperity, said: "In recent months we've been developing a regeneration delivery framework for the town centre to understand the role Cheshire East Council can play in giving our residents a town centre that they deserve.
"We've already secured millions of pounds of investment for the town centre through the new Lifestyle Centre and the University Technical College which will both open in 2016.
"This is the latest piece in the jigsaw and builds upon strong interest expressed through leisure operators, who share our vision for Crewe and our belief that we can forge a role for the town centre that is based on it being a destination for families to spend quality leisure time."
Options for redeveloping part of the site, which could include additional leisure attractions, such as a new larger cinema, restaurants, a hotel, car park and a remodelled bus interchange, are now being considered.
Julian Cobley, Cheshire East head of investment, added: "We will look at all options including the potential for bringing in a development partner to ensure any scheme balances viability with our aspirations that this site can act as a catalyst and bring even more investment into the town.
"The council is keen to work with existing occupiers within Royal Arcade and will shortly be embarking on a consultation with local residents and businesses on our regeneration delivery framework, to ensure we're making the most of our key assets and opportunities in the town centre."