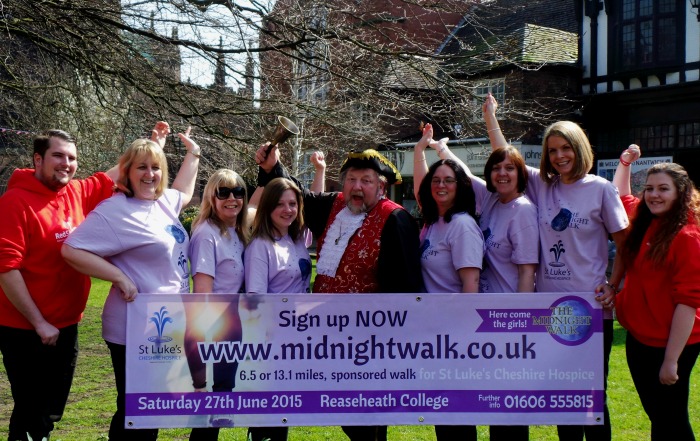 Nantwich Town Crier John Parsons joined these ladies in calling for more people to sign up to the Midnight Walk in aid of their local hospice.
The women all work for Business Training & Consultancy Ltd in Crewe and are taking part together.
The Midnight Walk is St Luke's Hospice's biggest fundraising event and more ladies are needed to be part of the best night of the year.
The event, on Saturday June 27, promises walkers an evening of entertainment from Redshift Radio before setting off on the walk between Nantwich and Crewe.
Walkers can take part for fun, as a challenge, or to remember a loved one. Ladies can choose to walk 6.5 miles or 13.1 miles.
Jane Thompson, hospice head of events, said: "This is our 11th ladies only Midnight Walk which we are immensely proud of.
"We'd love for mums, daughters, grandmothers to join together as family groups and be part of the night with us.
"Get your work colleagues to have a team together, or encourage your friends to have a great girls' night out.
"Don your tutus and tiaras and sign up today to raise money for patient care."
Sarah Beamon, from BTC, said: "We have all signed up to be part of this fantastic night for our local hospice.
"None of us know when we will need a hospice and we want to make sure that St Luke's is here for everyone who needs it."
St Luke's needs to raise £7,500 a day to run its services.
Care is provided free to patients and their families who need St Luke's across mid and south Cheshire.
The Midnight Walk is a fantastic way you can help to support St Luke's.
Ladies and gents can also volunteer on the night.
To sign up go to www.midnightwalk.co.uk If you have any questions, please call Melissa on 01606 555815
(Pic: Matt and Charlotte from Redshift Radio, ladies from Business and Training Consultancy and John Parsons, Town Crier)