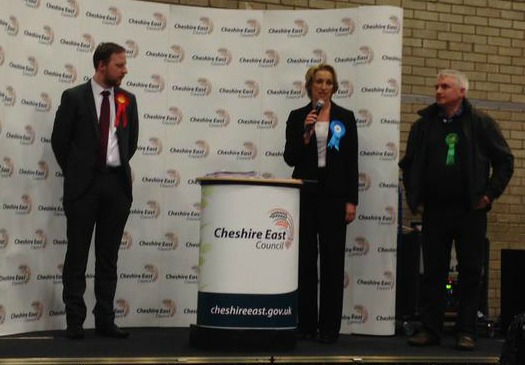 Voters in Willaston and Rope Ward made a bold statement with their appointment of first time candidate Sarah Pochin.
Conservative candidate Pochin took the seat from outspoken UKIP candidate Brian Silvester in a comfortable victory in the Cheshire East Council elections.
Pochin took 1,325 votes, with Labour's Benn Minshall in second place with 648 votes.
Silvester polled 621 votes, and Richard Bennett representing Green Party on 246.
Mum-of-two Pochin said: "I'm absolutely delighted.
"The team has worked really hard for me and all of that hard work has paid off.
"It's going to be a steep learning curve for me now, with being new to the world of counselling, but I'm very much looking forward to getting stuck in.
"I have a whole list of issues that the residents of Willaston and Rope want me to consider and look at, so I'll start to work through those."
Defeat is a blow for Silvester who has been a councillor for many years, first as a Conservative and more recently as UKIP.
In other village wards, Council Leader Michael Jones retained his Bunbury seat.
Steven John Edgar is elected as Conservative councillor for Shavington. 710 votes.
And Stan Davies retains his Conservative seat in Wrenbury, winning by 1890 votes.
Conservatives Margaret Simon and Jacquei Weatherill win both sets in Willaston ward.