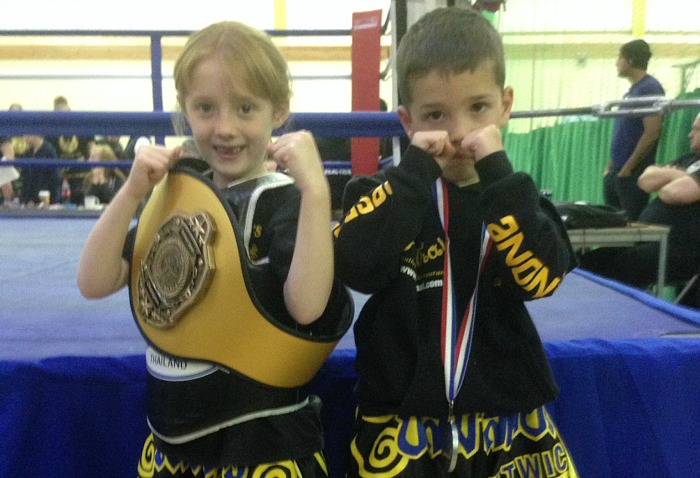 Two young siblings who train in Nantwich have been crowned among the UK's best – at a national Thai Boxing championship.
Maddie Rowlands, aged 7, and her six-year-old brother Caleb tasted success at the WKA Championships.
Maddie won the British title belt for her age, while Caleb won the silver medal.
The youngsters (pictured), from Winsford, train at the Beastmasters Thai Boxing gym at Regent's Park in Nantwich.
And it's the latest in a line of successes for the gym owners, Gemma and Barry Coast, from Shavington.
"Also, in April we had two adult fighters fight on a show in Altrincham," she said.
"Josh Rogerson had his first fight against a more experienced opponent from County Durham, he
had a tough fight and gave it his all till the bell but had a loss.
"But Connor Haley fought a local lad and had a unanimous victory making his second win."
Six of the gym's fighters also competed at an interclub event in Crewe.
At the end of June, young Maddie and Connor will be fighting in the ukmf Championships for British title belts.
Gemma (pictured below) said: "I am going to be holding a Novice show in October. We are looking for local businesses to sponsor the club and get involved with the show."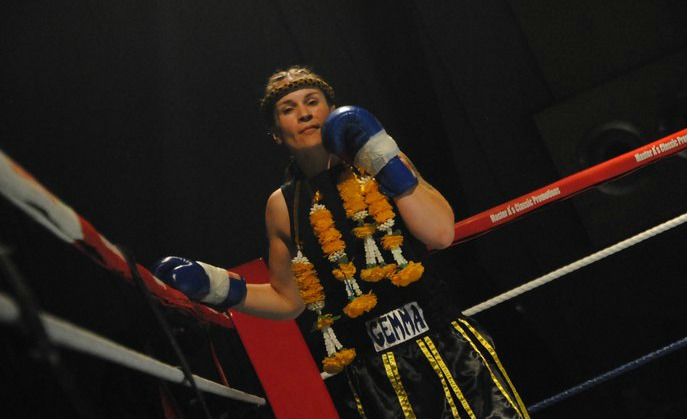 She originally started kick boxing in 1997 to help lose weight. She lost more than five stones.
She then progressed to Thai Boxing in Stoke-on-Trent, and began her fighting career in 2006.
She then moved to Pele's Gym in Altrincham to train with Pele Nathan and Tricia McKeary.
Her fighting career took her around the UK and abroad. With more than 20 fights under her belt, she has fought for various English and British titles.
Her opponents include Anna Zuchelli, Kristy Ooms (Holland), Mari Krosse (Holland), Samantha Middeljans (Holland), Nikki Soutierre (Canada) and more.
The gym runs a number of classes, with juniors starting as young as three years old.
There are also adult classes, and a ladies only session, plus one-to-ones and groups.
For more details contact Gemma on 07727085064, or visit www.beastmasters-nantwich.co.uk