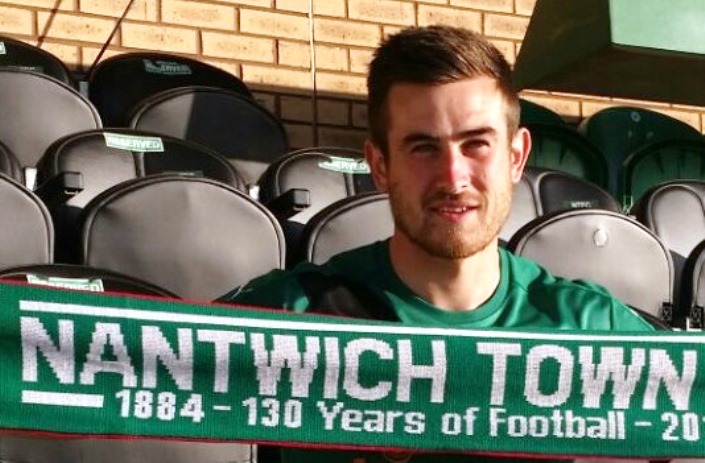 Nantwich Town's new signing Matt Bell believes joining the Dabbers was an easy choice for him to make, writes Richard Scott.
The former Mansfield, Leek and Kidsgrove Athletic midfielder said he was instantly sold by what the club is trying to achieve.
He said: "The club sells itself really, the facilities, everything – it's the whole package.
"How Phil [Parkinson] wants to go and the direction he wants to take with the team and he showed that he had faith in me.
"I thought I really want to be here. So it was a no-brainer."
The Dabbers' strongest position on the pitch going into pre-season is in midfield with the likes of Elliot Osborne, Kyle Blake and Sam Hall all competing with Bell to get into the team.
And this is something Bell is looking forward to.
The midfielder added: "Competition is good and brings the best out of people and the other people.
"I'm relishing the competition and getting started in pre-season.
"I'm an honest player – what you see is what you get. I can pick a pass and set up play quickly.
"My set pieces are good and I think I have got a few things to improve what is already there."
Bell and his new Nantwich teammates head to his former club Kidsgrove Athletic on August 1 in a pre-season friendly.
"I am looking forward to it apart from seeing Andy Kinsey, he is quite a character!
"But it will be good to see a few old faces.
"I'm familiar with a few of our lads in our dressing room and that is whom we need to concentrate on."
In the dressing room at Nantwich, Bell already knows Sam Hall and Liam Shotton from their time at Leek Town.
Bell is looking forward to linking up with Shotton once again.
He said: "I'm a sociable person.
"If I was to go into a dressing room and I didn't know anybody then I can do well and settle down really quickly.
"I know Liam Shotton.
"I enjoyed playing with him and we linked up well together at Leek in the early part of last season."