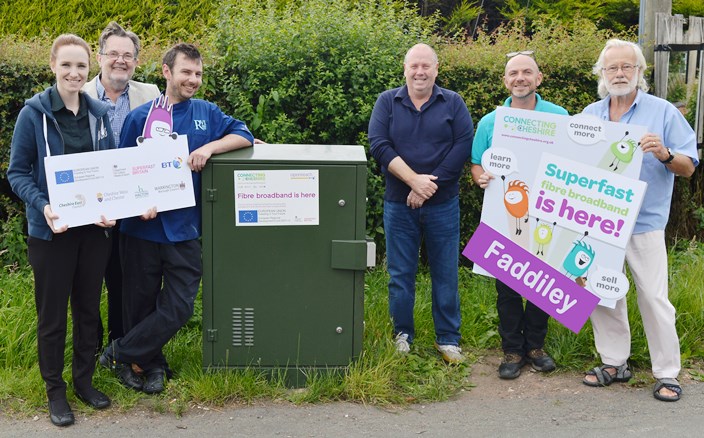 More than 85 properties in Faddiley and Brindley near Nantwich can now connect up to Superfast broadband.
It comes after Connecting Cheshire funded a new fibre broadband cabinet in the local telephone exchange area.
More than 85 premises can now upgrade to fibre broadband.
The new broadband service in the villages was launched at an official switch on event on Faddiley Park Lane.
Steve Travers, of Connecting Cheshire BT Broadband, said: "Superfast fibre broadband is not just about a faster internet experience or doing one thing quicker, it's about everyone being able to do their own thing online, all at the same time.
"You can work or play – smarter, faster, better – whether from your smartphone, TV, tablet or computer.
"Check the Connecting Cheshire website to see if your home or business can be upgraded and then contact your Internet Service Provider or shop around for the best deal and order a fibre broadband service.
"It doesn't happen automatically and you could make a saving compared with your current broadband contract."
You can check availability via www.connectingcheshire.org.uk
Connecting Cheshire, a partnership between BT and Cheshire West and Chester, Cheshire East, Halton and Warrington Councils, aims to reach an additional 80,000 homes and businesses with fibre broadband.