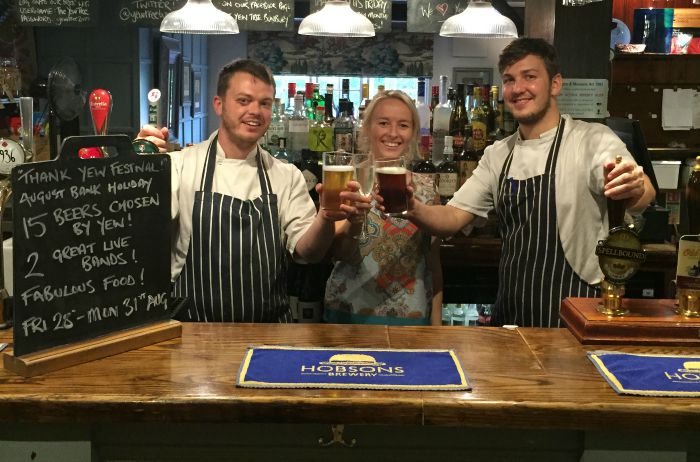 Award-winning pub Yew Tree Inn near Bunbury will celebrate five years of success with an August Bank Holiday beer extravaganza.
And the "Thank Yew It's Friday!" Festival will also toast the pub's latest award after it was voted Best Freehouse in the North West at the Great British Pub Awards 2015.
The festival runs from Friday August 28 for four days to mark the milestone anniversary.
There will be favourite beers chosen by both management and customers from hundreds that have appeared since it re-opened in 2010.
Musical duo The Beard Band kicks off the celebrations on the Friday while on Sunday, Tarporley's Higher Ground trio will perform. Both start at 7pm.
Licensees Jon and Lindsay Cox revived the abandoned village inn at Spurstow with a major restoration prior to re-launching in May 2010.
Since then, it has earned entries in prestigious guides including the Good Pub Guide, the Michelin Guide, and Sawdays.
It has twice been voted 'Pub of the Year' by the Marketing Cheshire Awards, and the inn was also a finalist this year in the GQ Magazine Best Pub Awards and the VisitEngland Awards for Excellence.**
Jon said: "We've had five terrific years at the Yew Tree and want to celebrate with everyone who has supported us by putting on a very special bank holiday beer festival.
"We asked our regular customers for the top five beers they wanted to see back here and then put together a list of our favourite beers from across the country – from Yorkshire, the Derbyshire dales and the Lake District to London.
"It was tough, but we are expecting a great weekend raising a glass or two to our next five years."
A charity clay pigeon shoot will be held in the autumn and tickets are on sale for a charity open air cinema evening on September 4 in the Paddock alongside the pub.
Plans are now being made to develop the pub over the next five years, and Jon and Lindsay are looking to recruit new managers to join the team.
Three of the Yew Tree's four chefs will each take turns on the stage at the Nantwich Food & Drink festival on the 4/5/6 of September at 1pm each day.
(Pic: Yew Tree Inn team –  L to R: Rob McDiarmid, head chef); Ellie Car, assistant manager; Matt Marren, sous chef)