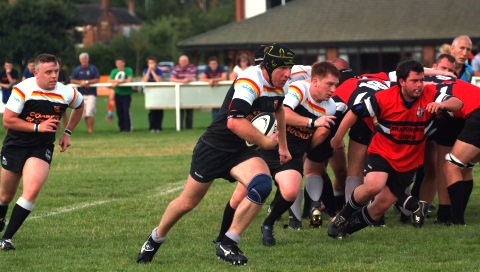 Crewe & Nantwich 1sts triumphed 7-5 in a hotly contested match against local rivals Whitchurch for a fourth consecutive league win.
Crewe won an attritional battle in cold conditions and on a rain-sodden pitch.
They fielded an unchanged pack from the Walsall game and recent additions Dan Lawrence, Matt Wright and Josh Howard produced quality performances.
Charlie Hutchings moved to scrum-half for the suspended Kieran Allsop with Andre Zwijnen starting on the wing.
The visitors started well and controlled early possession through phases but Whitchurch got some possession and put the ball into the Crewe 22, an area where Crewe were to play much of the first half.
However, Crewe's set piece worked well, pushing Whitchurch off the ball for one against the head, while Lawrence and Wright helped dominate the line-out.
Whitchurch had most of the possession but attempts to get the ball wide to wingers were thwarted by Crewe's defence.
Whitchurch fly-half Ollie Brown edged a penalty kick wide, but on 30 minutes, they engineered the first try.
They attacked on the edge of the Crewe 22 and Brown threaded a grubber kick through for left wing Sam Kendal to gather and score in the left hand corner for 5-0.
Crewe head coach Andy Dudley fired up his troops at half time and Crewe came out with more intent.
Some good kicking from the half backs and fullback Toby Ward, allowed Crewe to get in to the Whitchurch 22 where they stayed for most of the second half.
With 15 minutes left, Crewe had a series of scrums on the Whitchurch line after being held up.
After the third successive scrum, Crewe's pack powered forward again this time to score through a pushover try by Dan Hull, converted by Ward for a 7-5 lead.
The last 10 minutes saw Whitchurch try to counter attack from their 22 but Crewe turned over the ball through aggressive defence and halfbacks.
A large group of travelling Crewe supporters soon celebrated when the referee blew for full-time.
Crewe director of rugby Andy Brown said: "This win came from a magnificent forwards performance, particularly in the set piece, allied to an outstanding defensive platform.
"This stopped Whitchurch playing and credit must go to the coaches Andy Dudley and Andy Pemberton for preparing the players to put in a successful performance for this game."
Man of the match went to No 8 Dan Hull.
Next week Crewe play second-placed Bourneville at the Vagrants, kick off 2.15pm.
Meanwhile, Crewe & Nantwich 2nd XV achieved another valuable victory doing the double over Macclesfield to keep them on course for their promotion ambitions.