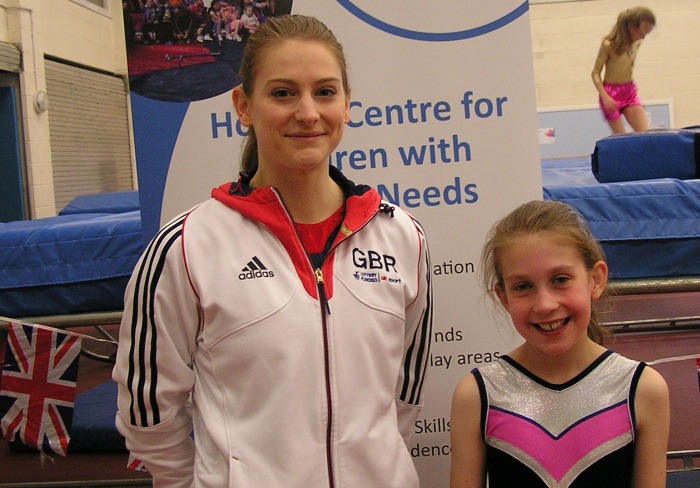 Nantwich's British Trampoline champion Bryony Page helped youngsters make 40,000 bounces – to help raise funds for the Wingate Centre.
The Wrenbury venue's "Bounce-a-thon" involved more than 40 local children of all ages and abilities.
And with Bryony helping, they notched a staggering 39,537 bounces in just four hours of non stop trampolining to raise money for the children's charity.
Local Nantwich mum-of-three Amanda Kimber ran the London Marathon for The Wingate Centre in just three hours and 53 minutes, raising more than £2,000.
Katie Heirene, fundraising coordinator at The Wingate Centre, said: "It was fantastic to see so many faces, some familiar and some new, taking part in our first ever Inclusive Bounce-a-thon.
"We just about managed to squeeze everyone in and it was great to see so many happy children getting involved in sport and raising money for The Wingate Centre.
"And to have a runner take part in the London Marathon was a huge milestone for the charity.
"Amanda really has set the benchmark with her incredible fundraising effort and time.
"We are very proud of her and Bryony and we will be following Bryony's progress closely over the next few months!"
The children's charity in Wrenbury provides residential holidays and recreational sports activities for children with disabilities and special needs.
The Bounce-a-thon was a chance to give families and friends of all ages a chance to trampoline with the current British champion who started her career at the Wingate Centre.
"Our next challenge is to support the six cyclists taking part in our 5 Nations ride, which will see them cycle through North Wales, Ireland, Northern Ireland, Scotland and England covering 560 miles in just 48 hours starting on the 18th June!
"It's a team ride but our novice cyclists will still have to cover a personal distance of almost 200 miles in that time frame – only sleeping in a mini bus between stints!
"We are currently on the hunt for local sponsors to help cover the event costs. If you might be interested please get in touch!"
For more details on how you can support the charity in 2016 visit www.thewingatecentre.co.uk or email [email protected]