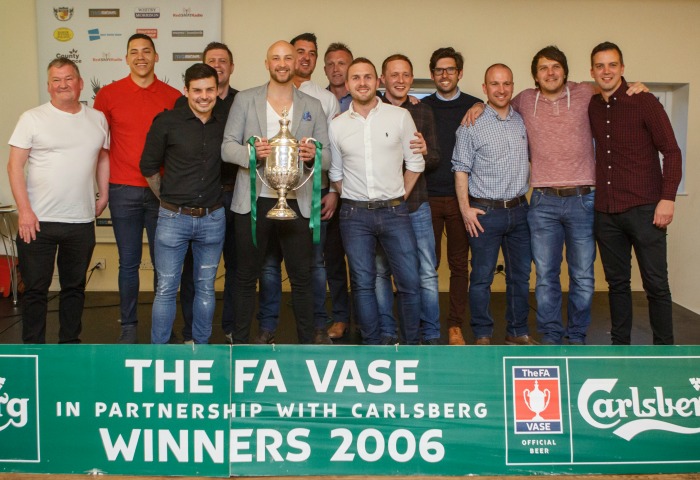 Supporters, officials and members of Nantwich Town's FA Vase winning side enjoyed a reunion at the Weaver Stadium – 10 years on from the famous cup victory.
Then captain and now current manager Phil Parkinson, and then manager Steve Davis, now boss at Crewe Alexandra, were among those present – along with the trophy itself.
The celebration was organised as part of a special event by the Nantwich Town Independent Supporters Association (NTISA).
As well as having photos with the trophy taken, the night also saw the launch of a new book – "When Nantwich Turned The Vase Green".
Many supporters present managed to get copies signed by their heroes, as well as programmes from the Vase run including the final a decade ago.
There was also a meal and raffle drawn, with successful tickets coming out of Vase.
MC for the event was Director of Football Operations Jon Gold, who was present for a number of the games.
He took a trip down memory lane with contributions from Steve Davis, Albert Pye, Ivan Robertson and Rob Woods all adding their thoughts on a fantastic season in the
history of Nantwich Town FC.
Event organiser Ian Garnett said: "What a fantastic event to celebrate the 10th anniversary since Nantwich Town lifted the FA Vase at St Andrews.
"I'm delighted we got a high number of former players down from the final winning team.
"Only three out of the squad of 16 from that famous day in May 2006 were absent so I would like to thank them so much for coming down and celebrating with the fans what has been the Dabbers best moment in the club's history.
"Also many thanks to the FA for allowing us to have the FA Vase here for the night.
"Many people will remember seeing it being lifted by Parky in Birmingham or carried round the town on the open top bus.
"So it was fantastic to see the trophy back in Nantwich and brought back great memories. All in all, a successful and enjoyable evening for everyone."
You can buy a copy of Richard Scott's book 'When Nantwich Turned The Vase Green' at the club shop for £4, or by emailing the club shop at [email protected] to reserve a copy.
(Pics by Simon J Newbury Photography)