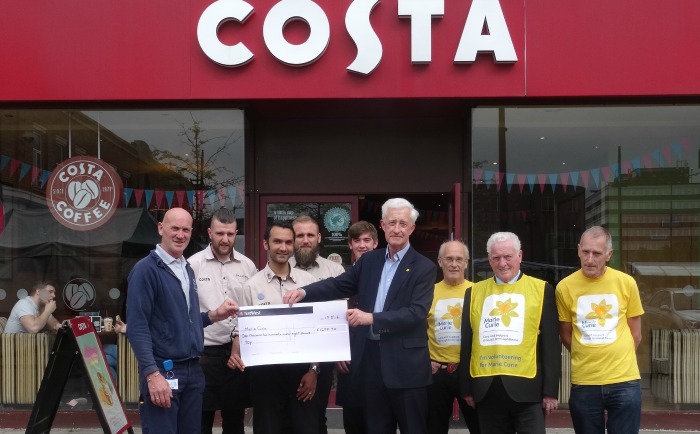 A Halloween fundraising event at a South Cheshire house has helped raised more than £1,000 for the charity Marie Curie, writes Jonathan White.
Richard and James Stack dressed up their garden on Holland Street, Crewe, into zones consisting of a spooky living room and a gravestone garden.
Decorations included witches, skeletons, ghouls and an alleyway lined with pumpkins, along with a video screen showing Disney's movie 'Hocus Pocus'.
They were both able to gather additional funds through their workplaces.
Richard works at South Cheshire College and James works at Costa Coffee on Market Street in Crewe.
Staff donated generously to Richard, while James raised further money via the Crewe shop and six other Costa Coffee shops within the SY Coffee franchise.
The cheque presentation for £1,298.70 took place outside Costa Coffee on Market Street.
Richard and James said: "We would like to thank Marie Curie, The Cat 107.9 FM community radio, South Cheshire College and Costa Coffee for their generous support.
"We would also like to give a big thanks to our volunteers and members of the public for supporting our event."
Chris Barratt, chairman of the South Cheshire Fundraising Group, said: "We were delighted when Richard and James offered their tremendous support to our fund-raising.
"At the outset, we had no idea how the funds would grow and we are, of course, staggered by the final total.
"At a time when Marie Curie is attempting to provide nursing care to more and more people suffering from terminal illnesses our group is extremely grateful for all the help that members of the community can give."