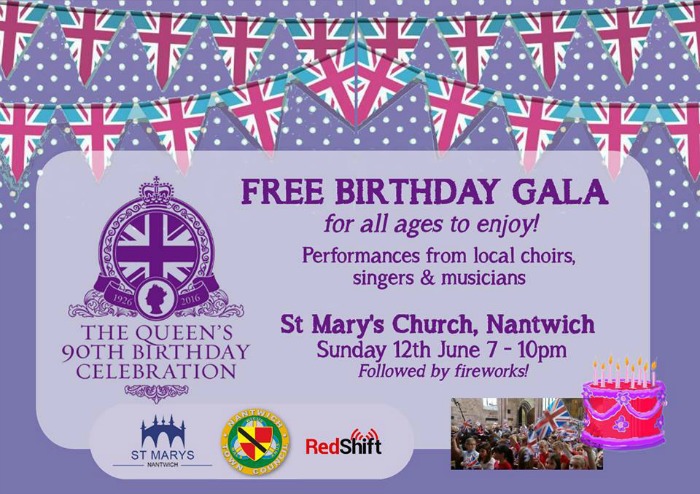 Nantwich is planning to celebrate the Queen's 90th birthday with a series of events on June 12.
These include a tea party for the town's 90-year-olds, a free evening concert in St Mary's Church including fireworks, and the lighting of the town's jubilee beacon in the square.
In Nantwich, there will be an afternoon tea party for pensioners also born in 1926, or already aged 90 or over.
There will be piano and singing entertainment as well as light refreshments and birthday cake, and there will be no admission charge.
One of the event organisers, Martin&Co director Shaun Cafferty, said: "We still have a few spaces left, so if you know anyone from Nantwich and the surrounding area of the right age who might like to come along, please get in touch.
"Carers can of course accompany these elderly guests.
"You can contact the Martin&Co office in Nantwich, St Mary's Church, Nantwich Town Council or Redshift Radio.
"We did invite the country's most well-known 90-year-old, but unfortunately Her Majesty was already committed to another party taking place on The Mall in London!"
Cheshire's Lord Lieutenant will be attending in honour of the Queen, and will make a speech prior to the Queen's Concert in St Mary's Church which starts at 7pm.
"We wanted the event to be inclusive for all of Nantwich, and for as many local people as possible to enjoy this once in a lifetime moment," added Shaun.
"With the support of volunteers, local councils, and local businesses, we have been able to stage it without any entry cost.
"The Queen's Concert will review the life of the Queen by staging music and dancing from all nine decades of her life.
"That will be followed by a mini 'Last Night of the Proms' when a range of national songs will be played, and we hope people will join in and wave their flags!
"At the end, we will all go out into the square to sing happy birthday led by the Town Crier, and see the lighting of the Nantwich beacon which is saved for special royal occasions.
"The whole evening will conclude around 10pm with a brief display by Blitz Fireworks."
The Queen's Concert starts at 7pm on Sunday June 12 in St Mary's Church, and is expected to finish around 9.30pm.
All are welcome, admission is free on a first come, first served basis.