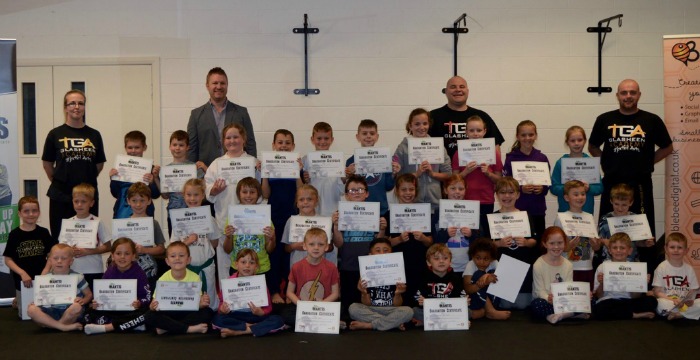 A national-self defence initiative for children has been launched across South Cheshire, reaching over 200 children.
The MANTIS (Manage Any Nasty Trouble in Society) programme prepares children to defend themselves in difficult situations to keep them safe from violence.
Children, parents, instructors and sponsors gathered at TGA Martial Arts Centre of Excellence to launch the programme now being rolled out across schools in South Cheshire.
The eight-week self-defence programme is focused on improving the lives of children by providing quick solutions to difficult situations.
The nationwide initiative is partnered with the Anti-Bullying Alliance hosted by the National Children's Bureau.
TGA Marital Arts CEO Damian Glasheen launched the MANTIS programme through his Centre of Excellence, where instructors teach the self-defence programme in schools across Nantwich, Crewe and Sandbach.
Damian said: "The response from parents, their children and the local schools to this programme has been phenomenal.
"The children who have already tried it can see the benefits already of gaining confidence about how to defend themselves without 'fighting back'.
"We are delighted to support the community in this positive way by promoting safe self-defence moves in schools, while also promoting discipline and respect at the same time."
Isaac Hobbis, aged 7, said: "Today was awesome, we were taught two moves that were easy to understand and I loved it!"
MANTIS is sponsored by local Digital Marketing Agency Bumblebee Digital.
Jamie Stewart, CEO of Bumblebee Digital, said: "My two children do martial arts at TGA and it's had a big impact on helping build their confidence.
"So being able to help give kids in the local area these vital skills in the eight-week programme is something that's really important to me."
Lauren Seager-Smith, national coordinator of Anti-Bullying Alliance, said: "We want all of our children to live happy, fulfilled lives without fear of bullying.
"The 'Children's Protector' is a powerful tool to empower children in the face of a physical attack.
"All of us – whether children or adults can benefit from learning these simple techniques."