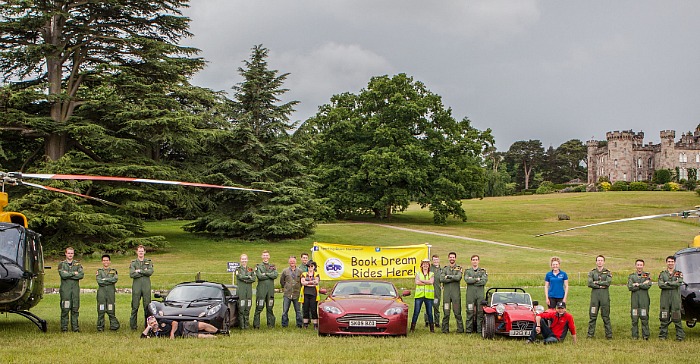 The Sporting Bears Motor Club has raised a staggering £7,000 for The Wingate Centre in Nantwich.
The club raised the money at this year's annual Power and Speed Festival held at Cholmondeley Castle.
The Wrenbury-based Wingate Centre runs residential holidays for children and young adults with physical and learning disabilities.
Members of The Sporting Bears Motor Club are a dedicated group of classic car and sports car enthusiasts with one aim – to raise money for children's charities through
<http://www.sportingbears.co.uk/index.php/view/cat/17/dream-rides-info> Dream Rides at events like CPAS.
Since the club was formed in 1989, they have raised more than £1.5 million for UK children's charities.
Max Walker, a member of Sporting Bears, said: "We are delighted to be able to support The Wingate Centre.
"It's a wonderful charity that supports the lives of many children in our area and we know
that this money will really make a difference to them.
"We go to Cholmondeley every year for the Power and Speed Festival and have so much fun.
"It's a great event for car enthusiasts like us and we have taken some fantastic people out for rides again this year."
The Wingate Centre, just four miles from Cholmondeley Castle, was the chosen charity for CPAS in 2016.
Visitors could have a ride in a choice of cars from Lamborghinis and Ferraris to the more classic Aston Martin, in exchange for a donation to the charity.
Katie Heirene, fundraising coordinator at The Wingate Centre, said: "We would like to say a huge thank you to the Bears, who sacrificed not only their wonderful cars but their time for the whole weekend!
"£7'000 will subsidise almost 60 children to come and have a four night stay with us here at The Wingate Centre, which is incredible!
"We would also like to thank The Cholmondeley Power and Speed Festival for choosing us as their charity again this year, it's a fantastic event to be involved in and we feel very
honoured.
"We are a small independent charity and could not survive without the support of local businesses and individuals from the local community."