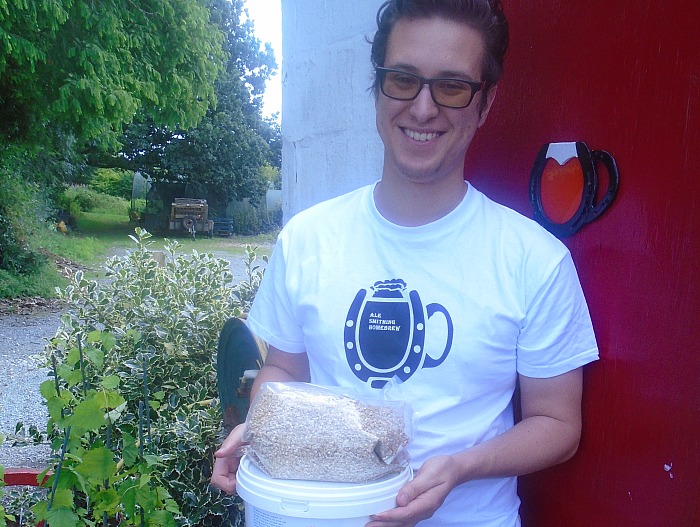 A hard-up Nantwich student who brewed his own ale at university to save money, has turned the idea into a new business!
History graduate Paul Morgan, from Bulkeley, near Nantwich, came up with the idea of home brew to save on nights in the pub while studying.
But the 22-year-old never imagined it would ignite a passion which has led to him setting up his own business from home.
Former Bickerton Primary School pupil Paul saw the once commonplace skill of brewing beer at home had been lost over generations – as had many old recipes.
But after a little 'research' while he studied at Aberystwyth University, he decided it could easily be re-discovered.
Now he's launched a new business selling home brew kits he puts together in his mum's garden.
"The idea of making your own beer is confusing and foreign to many people, when really it is no different to baking a cake – actually it is easier," said Paul.
Paul set up a "smithy" in the grounds of his family's plant nursery after taking over the family kitchen for several months to develop his recipes.
"It was relatively cheap to start up," he added.
He has developed a range of ales, including Shipwright's IPA, Logger's Pine Lager and Mum's Mumme.
Now he has launched Ale Smithing Home Brew kits, which are selling online. Paul also intends to sell at Christmas fairs and markets.
Paul wants home brewers to go back to basics using whole grains and wholesome ingredients such as honey and elderflower.
"I wanted people to have a more authentic experience," he added.
"It shouldn't just be about pouring a can of treacly extract into a bucket."
Each kit comes with easy to follow instructions and extras.
For more information, visit Paul in his smithy on Morgan's Plant Nursery in Stonehouse Lane, Bulkeley, or visit www.alesmithinghomebrew.co.uk