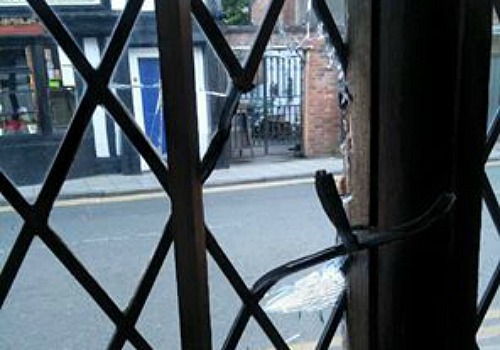 Police are hunting a thug who smashed a window of an historic Nantwich building – and left part of his hand behind!
The incident happened at The Cat bar and restaurant, on Welsh Row, when the offender smashed his fist through one of the leaded windows.
Horrified staff who had to clean up the mess also found part of the vandal's flesh from his hand hanging off the broken pane.
Staff at the venue and police are now monitoring CCTV footage to try and identify the offender.
The attack happened in the early hours of Saturday, October 1.
A spokesperson for The Cat said: "Thanks for all your messages and support.
"Our CCTV has captured the thug punching our swing sign, and our windows…and the car he was driven off in!
"This was one of the building's original windows.
"Such a shame our windows have survived hundreds of years in our building then smashed up by a mindless idiot!"
Nantwich town centre PC Marc Harley told Nantwichnews: "Cheshire Police are currently investigating an incident which occurred at The Cat pub, Welsh Row at 3am on Saturday October 1 2016 where two windows were smashed.
"Crime scene Investigators have attended at the scene and evidence recovered. We are also following up CCTV and vehicle keeper enquiries following a vehicle being sighted at the scene.
"Anyone with any information regarding this incident can contact the officer dealing on 101 by quoting CC16303472.
"Cheshire Police works closely with local licensed premises and the national Pubwatch scheme to make Nantwich a safe place.
"Behaviour such as this will not be tolerated in the town and where appropriate banning orders will be issued."