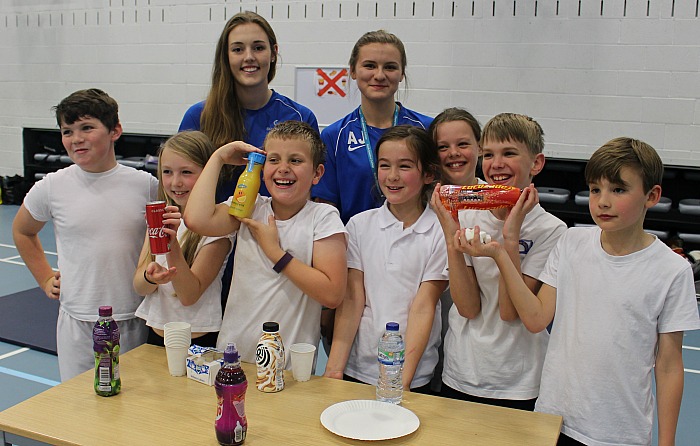 College students have teamed up with Crewe and Nantwich School Sport Partnership to improve the health and wellbeing of primary school youngsters.
Sport students at South Cheshire College invited children and teachers from seven Crewe and Nantwich schools to explore nutrition and sporting activities.
The aim of the session, supported by the national Change 4 Life Campaign, was to create an inspirational setting for them to return to school and begin their own sports clubs.
The college's sports hall was divided into working areas, where students paired up to manage stations including dodge ball, bench ball, multi-skills station, fruit tasting and a lunchbox activity.
A sugar cube station, aimed to tackling child obesity, challenged youngsters to guess the number of sugar cubes in popular high street drinks.
Alexandra Jama, Level 3 Sport and Development Fitness student, said: "Managing the sugar cube station was particularly interesting to hear the responses from children.
"The shock on their faces about the amount of sugar in a bottle of Coke or Lucozade made the session feel thoroughly worthwhile.
"We hope this has given those who drink sugary drinks an insight to change their habits."
Sports Lecturer Jon Keresztury said: "Our students have enjoyed planning this event in line with the brief on their course, and it's incredibly rewarding for them to see children having so much fun.
"This is just the first step of the journey where now these children and staff can take the ideas back and engage other children in their school to take part in new sports clubs and healthy eating."
Niall McGregor, school games organiser at Crewe and Nantwich School Sport Partnership (CNSSP), said: "South Cheshire College students have been brilliant in inspiring the school children in new ideas for being active and healthy.
"Thank you to South Cheshire College for hosting the event and being so involved with supporting the Change 4 Life programme for the young people in Crewe."
(Pic: Year 5 pupils from Bridgemere CE Primary School in Nantwich with sport students at South Cheshire College, on the 'Sugar Cube' station)