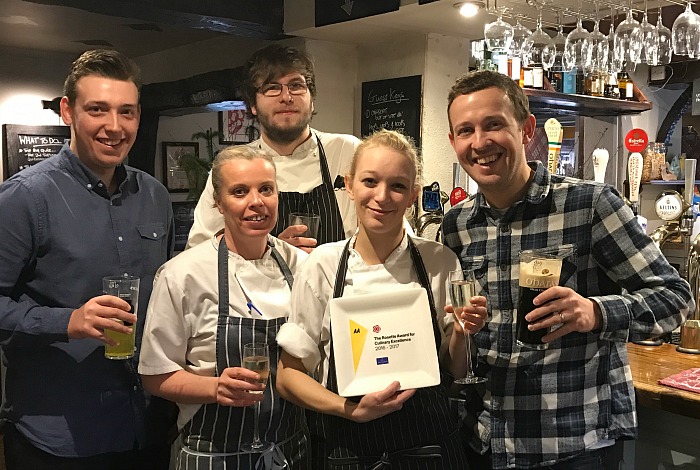 Staff at Bunbury's Yew Tree Inn are toasting two new national accolades.
The country inn is the only pub in Cheshire listed among the UK-wide Estrella Damm Top 50 Gastropubs.
And that comes soon after collecting a highly prestigious AA Rosette.
It was the first time the Yew Tree had joined the challenge to enter the listing in 49th position.
The top spots remain in the hands of Britain's long-established and founding gastropubs – many of which hold Michelin stars.
The Top 50 Gastropubs contest is judged by experts in the catering and pubs business.
Nicholas Robinson, Top 50 Gastropubs editor, said: "The list has been around for close to a decade now and every region now has a handful of great food pubs that Brits can count on for a superb meal, prepared by chefs whose skills wouldn't be out of place in the world's best restaurants."
James Healey, UK sales manager of sponsor Estrella Damm, said: "We are recognising all top 50 for their hard work and dedication in raising the bar in pub dining – and in so doing, ensuring the longevity and legacy of that Great British icon, the pub."
Yew Tree publican Jon Cox said: "These latest awards are a tremendous tribute to the hard work and creativity of the kitchen team led by our talented head chef Nicola Rhodes.
"Again, they have been recognized nationally with two top awards in quick succession.
"And it's an amazing achievement to be the only one in Cheshire to be named among the Top 50 gastropubs."
Last year, SIBA (Society of Independent Brewers) named the Yew Tree as the nation's top rural craft beer pub for its line up of cask and craft keg beers.
Since being relaunched by Jon and Lindsay Cox in 2010, the Yew Tree has twice been hailed as 'Pub of the Year' by the Marketing Cheshire Awards and has also earned high praise in the Camra Good Beer Guide.
(Pic: Yew Tree team Matt Saywell, Lynsey Kiddie, Chris Knights, Head Chef Nicola Rhodes and Jon Cox)