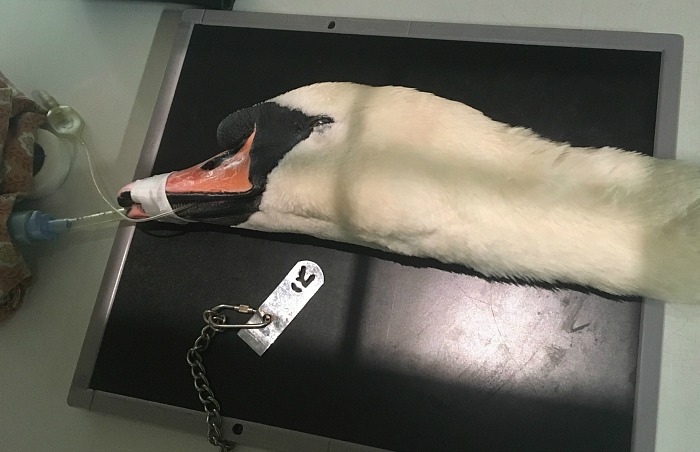 A swan was found on a South Cheshire canal peppered with shotgun and airgun pellets, the RSPCA has revealed.
The swan was found by a member of the public at Middlewich Canal and taken to the RSPCA's Stapeley Grange wildlife centre in Nantwich.
An x-ray showed four shotgun pellets in the swan's body, as well as an air rifle pellet that had gone through the back of the swan's head and had become lodged in the bird's jaw.
The bird was so badly injured he was put to sleep to prevent further suffering.
Lee Stewart, manager at Stapeley Grange, said: "The swan was very poorly indeed and had suffered immensely before being brought into us.
"There were two shotgun pellets inside his neck, a third one at the back of his jaw and a fourth one in his beak, as well as an airgun pellet lodge in his jaw.
"On top of that, the x-ray also showed that he had a broken wing.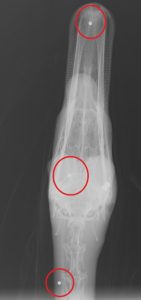 "We attempted to remove the big air gun pellet, but it was too deeply embedding in the swan's skull.
"It was clearly a very painful injury which meant that the swan could not open his mouth.
"Sadly, these injuries gave the swan a very poor prognosis and he was humanely put to sleep to end his suffering.
"It is very distressing to think that people take pleasure in causing harm to these beautiful and defenceless birds.
"These are deliberate acts of cruelty and we would appeal to people's consciences not to commit these offences."
Anyone with information should contact the RSPCA on 0300 123 8018 or Cheshire Police on 101.
Anyone caught deliberately using an airgun to injure a wild bird can be sentenced to up to six months in prison and a fine of up to £5,000 if found guilty under the Wildlife and Countryside Act 1981.
If anyone sees an animal in distress, ring the RSPCA's 24-hour cruelty line on 0300 123 4999.