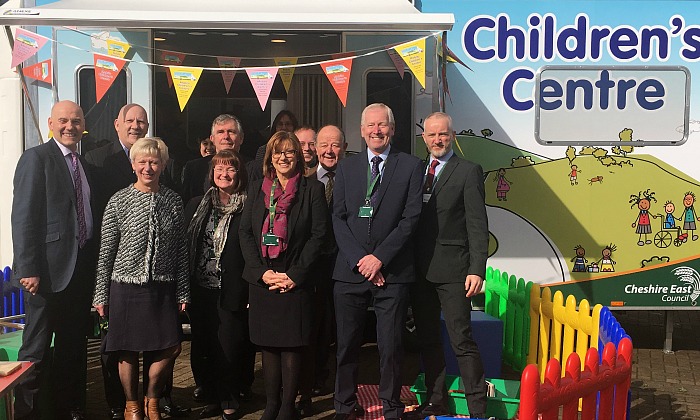 A new mobile children's centre soon to be unveiled in Nantwich and nearby villages, has been welcomed by town councillors.
The Cheshire East Council service is embarking on a tour of the area, with the aim of gathering views from the public on the facility.
The vehicle is part of the council's children and families' service.
It was launched this week and is set to visit Nantwich on March 13, Bunbury on March 15, Wrenbury on March 21, Wybunbury on March 27 and Audlem on April 5.
Parents and families can drop in and find out more, take a look at the new vehicle, and road-test its facilities.
Nantwich town councillors broadly welcomed the service at a meeting tonight (March 9).
It aims to provide an additional way to access children's centre services in rural areas, and not replace existing facilities.
Nantwich Town Cllr Peter Groves said: "This is an additional facility and is not to replace any existing children's centres.
"This is a very rural borough and there a number of areas that just don't have access to transport. So this is an additional service to outlying areas.
"We want people to come along to take a look at this mobile service and tell us what they think."
The service aims to help and support families earlier when children are in early years, aged 0-4.
Cllr Liz Durham, Cheshire East cabinet member for children and families, said: "In a local authority with a very significant rural population, it is often difficult for some children and families to access services delivered from centralised buildings.
"By working in partnership with health visiting, childcare providers and schools, the new vehicle will allow us to deliver effective support to those families that most need it and where they are able to access it – ensuring that more children have the best start in life and are ready for school."
It will be on Barony Park Sports Complex, Barony Road, Nantwich Monday March 13, 2.30pm – 4pm, and the 'Nags Head' on Vicarage Lane, Bunbury, on Wednesday March 15 10am – 11.30am.
On Tuesday March 21 between 8.30am – 10.30am, it will be at Wrenbury School car park, Nantwich Road, Wrenbury, and on Monday March 27 from 2.30pm – 4p, it will be on Wybunbury School field, Bridge Street, Wybunbury.
For more information about the mobile children's centre, including the dates and locations of the roadshow, visit www.cheshireeast.gov.uk/fis
(Pic: mobile children's centre launch – Cheshire East Council chief executive Mike Suarez, Cllr Paul Bates, Cllr Rachel Bailey and Cllr Janet Clowes alongside colleagues)