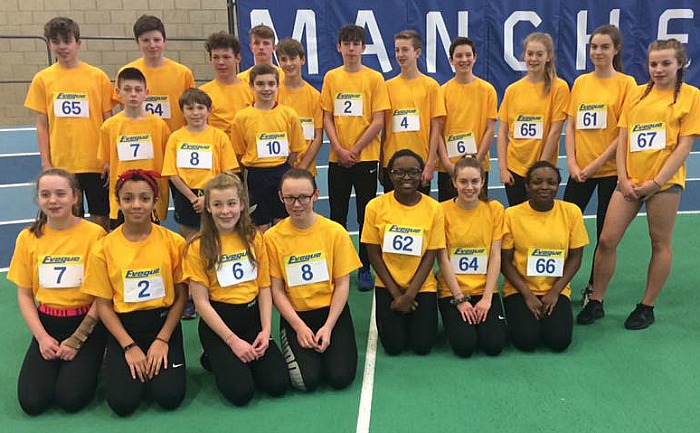 Young Crewe and Nantwich athletes excelled at the North West sportshall finals for U13s and U15s.
Twenty-one athletes from Crewe & Nantwich AC represented Cheshire as they competed against Greater Manchester, Cumbria, Merseyside and Lancashire.
And two of the Cheshire teams won their competitions at the event in Sportcity, Manchester, with the U13 boys and U15 girls going through to the national finals on April 22/23.
The winning Cheshire U15 girls team included brilliant performances from Amelia Atkinson, Hannah Whelan, Hollie Campbell, Tia Campbell, Zoe Leydon and Faith Hough.
And the winning U13 boys team included Crewe & Nantwich athletes Ben Verbickas, Oliver Atkinson, Oliver Doyle, Drew Bradley, Jake Wilson, George Spain and Sean Sides.
The U13 Cheshire girls came 4th, with Ruby Bowie, Georgia Brookfield, Georgia Donald, Esther Wilding representing Crewe and Nantwich.
And the U15 boys were third, thanks to great performances by C&N athletes Ethan Hall, Cameron Brookfield, Oliver Taylor and Owen Edwards.
In the individual competition, Hollie Campbell was the outright winner for u15 girls, with Hannah Whelan third overall.
Meanwhile, Crewe and Nantwich athletes were competing in other events in different parts of the country.
In the English Schools Cross Country Championships in Norfolk, Raif Serif came 27 out of 345 in Junior boys competition.
Ellie Grinnell came 99 out of 345 in Intermediate girls, and Will Kesteven came 158 out of 338 in Intermediate boys.
(Pictured above, the U13 and U15 Crewe and Nantwich athletes representing Cheshire)