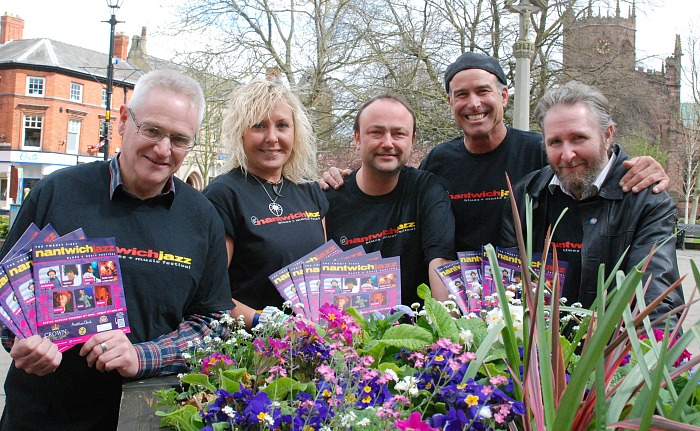 Nantwich Jazz, Blues and Music Festival looks set to be a massive crowd-puller as tickets for all the major shows approach sell-out.
Tens of thousands of visitors are expected to descend on Nantwich for the annual festival, which runs from Thursday April 13 to Monday April 17.
Organisers have unveiled a range of commemorative merchandise including T-shirts, hoodies, sweatshirts and bags to celebrate the festival's 21st anniversary.
But police are warning revellers to be on their best behaviour ahead of one of the biggest events in the town.
There will be an increased police presence across the town to deter any anti-social or criminal behaviour.
Sgt Ian Bennett, of Crewe Local Policing Unit, said: "The event attracts many people – including families – and we want to ensure those attending are able to enjoy it safely.
"While the majority of visitors will enjoy the event over the bank holiday weekend, sadly there is often a small minority of people who use it as an excuse to drink excessively, cause a nuisance and act anti-socially."
Festival policing will be part of the force's county-wide 'Street Safe' initiative.
Sgt Bennett added: "Although we want everyone to enjoy the festival, in the interests of public safety, we will take a firm stance against those who jeopardise this through drunken, violent or antisocial behaviour."
Wristbands which cost £8 and allow access to pub gigs have sold like hot cakes.
They are available from The Crown Hotel, Nantwich Civic Hall, Tourist Information Centre and the festival kiosk on the town square.
T-shirts and other merchandise start from £14.
American singer and musician Stevie Heger, long time drummer with Al Jardine's Beach Boys, will perform during the festival and arrived in town early to help launch the festival T-shirts with a media photo-call on the town square.
Festival spokesman Steve Barnes said: "We wanted to make this a very special 21st anniversary.
"For the first time we have introduced merchandise for visitors to take away a memory of the festival.
"We have 150 bands performing across town including many outdoor performances great for all the family.
"It's been the best ever year for wristband sales in the weeks leading up to the festival, with online sales outstripping previous years."
Headline acts Ruby Turner, Geno Washington, Mike Sanchez and The Beat have generated a huge amount of interest online.
Other star names include Nearly Dan, King King, Zoot Serious & The Bellyful of Pop, Mike Sanchez, Rebecca Downes and Emma & The Wolf.
The music trail has 20 venues including Civic Hall, Museum, Methodist Church and St Mary's Church where jazz singer Elaine Delmar will be in concert on Bank Holiday Monday.
For full details, pick up a brochure in local outlets or visit www.nantwichjazz.com
(Pic: Steve Barnes, Sarah Howlett and Michael Edge of the festival team with American performer Stevie Heger and Steve Abbott of The Cat radio station)