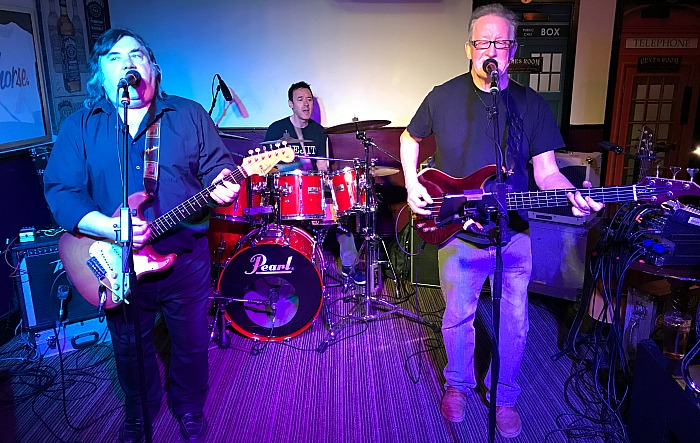 The 21st Nantwich Jazz, Blues & Music Festival is up and running with thousands enjoying some fine performances.
Organisers expect 40,000 people to attend the festival during its five-day period April 13-17.
There are 150 bands performing at 20 venues in Nantwich.
Musical genres include jazz, blues, swing, pop and rock.
Entry to the majority of festival pub gigs is via an £8 wristband. There are also ticketed events.
Headline acts include Geno Washington, Ruby Turner, MikeSanchez, King King, Connie Lush, The Beat, and Elaine Delmar.
Electronica tribute band Electro 80s performed on the opening night at The Studio Nightclub & Entertainment Venue in Nantwich.
Their concert took place in front of a capacity 500 people.
Electro 80s performed a two-hour set recreating songs by artists including Gary Numan, OMD, Visage, Tears for Fears, Kraftwerk, A Flock Of Seagulls, Howard Jones, Erasure and Depeche Mode.
Nigel Woodhouse, director of operations at The Studio, said: "It is fantastic to have Electro 80s back again this year.
"It is great to have so many people reliving their youth to the unmistakable sounds of the 80s.
"We hope visitors also enjoy the numerous other bands we have on offer over the weekend."
The festival is sponsored by Nantwich Town Council, Matthew Clark, Stella Artois, Hall Smith Whittingham Solicitors, and The Crown Hotel.
The Railway Hotel,  on Pillory Street, is also providing live entertainment over the Easter weekend, with free entry to all events.
The festival is projected to inject more than £1 million into the town's economy.
(pics and words by Jonathan White)