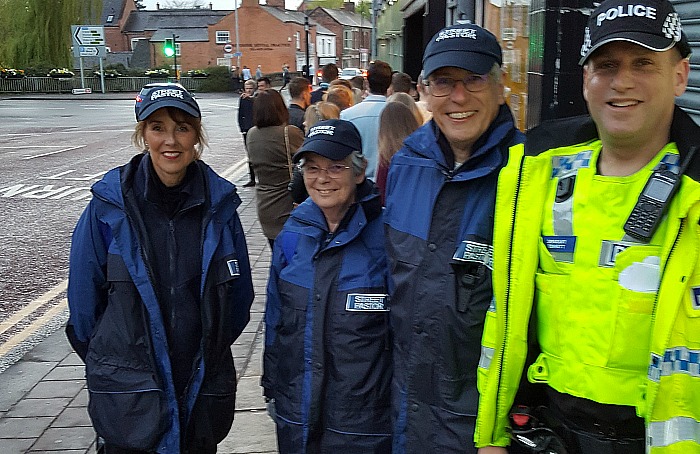 Nantwich Police have hailed the 21st Nantwich Jazz Festival as a success with just seven arrests during the five-day event.
Tens of thousands packed in to the town to watch more than 100 live performances at dozens of venues.
Officers were out in force and stepped in to take action where necessary.
The operation was part of Cheshire Police's Street Safe initiative, tackling issues linked to public space violence, anti-social behaviour and the night-time economy.
A handful of incidents were reported to police, with officers making seven arrests for public order offences such as being drunk and disorderly.
Sgt Ian Bennett, who oversees the Nantwich policing team within Crewe LPU, said: "Thousands of people descended on Nantwich to enjoy the jazz festival, which from a policing perspective, went well.
"Throughout the weekend, there was an increased police presence to ensure the event ran safely and to deter any anti-social or criminal behaviour.
"Overall, officers found the atmosphere to be friendly with most people behaving sensibly and having a happy and cheerful time.
"There was a small minority who did choose to act anti-socially and drink excessively but officers were on hand to advise those individuals and take action to prevent them from ruining it for others."
Police & Crime Commissioner David Keane added: "This is one of Nantwich's biggest events and each year is always a celebration of great music and fantastic community spirit.
"As with any event of this type, there is always the risk that minority could spoil it for the majority.
"Thankfully, though, this does not appear to have been a major issue this weekend and I am delighted our police operation over the festival was so successful.
"From what I have heard, families and residents from across the county and beyond had a great time.
"As Police and Crime Commissioner I'd like to thank all our officers and support staff for doing such a great job."
The Street Safe initiative can be followed on Twitter @CheshirePolice and the local policing accounts, or #streetsafe
See below for festival pics, courtesy of Nantwich Events Photography