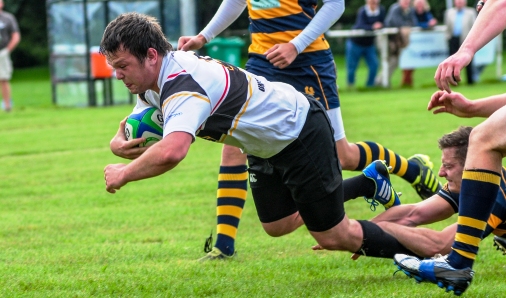 Crewe & Nantwich notched a fine 20-19 victory over favourites Macclesfield to win the Sandbach Sevens rugby tournament.
Crewe made it to the final by defeating all four of their opponents in the group stages.
Macclesfield had a tougher qualification, playing both the other National League teams Sandbach and Lymm.
In the final, Macclesfield scored first and Crewe replied with a try on the left hand touchline, converted Toby Russell-Vick.
Macclesfield and Crewe swapped tries twice more with the score being 19-17 with one minute of time remaining.
After some good Crewe play in the Macclesfield half and with just seconds left on the clock, Crewe were awarded a penalty 25 metres out and 8 metres to the left of the posts.
Russell-Vick stepped up to the plate and converted another drop goal to win the game.
Crewe & Nantwich director rugby Andy Brown said: "The boys deserved their victory and with a very young team it is a sign of things to come for next season.
"The contribution of all 10 players was magnificent.
"We were delighted many of the Crewe & Nantwich Vets stayed to watch the final and share the moment with the boys immediately after the match.
"One day hopefully these young guys will share a similar moment in years to come with another Crewe & Nantwich 7s team."
Crewe & Nantwich Vets defeated Sandbach in their group of the Sandbach 10s Vets Competition.