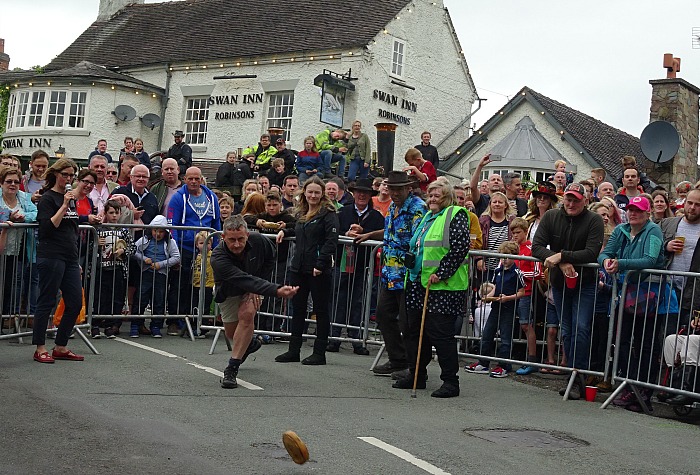 Hundreds of families enjoyed the annual Wybunbury Fig Pie Wakes village event, writes Jonathan White.
Organised by the Wybunbury Tower Preservation Trust, the event dates back at least 200 years though stopped in 1920.
The event was reprised in 1995, when the Wybunbury Tower Preservation Trust revived it to raise money for the upkeep of their historic leaning tower in the village.
The event started in the morning with a peal of bells at Wybunbury Tower.
Nantwich-based online community station RedShift Radio provided and staffed the PA system with fig pie race commentary from presenter Kelly-Ann Davies.
Fig pies are made from a traditional recipe containing a hard pastry and were rolled from the Swan Inn pub down Main Road to see how far they would travel.
There were separate race age categories for Under 10s, Under 16s and adults.
The honour of rolling the first fig pie this year was bestowed on 2016 Adult winner Ian Edwards whose pie rolled for 112 metres last year.
There were winners from the same Wybunbury family this year when Oliver Hunt won the Under 10s race with 72.7 metres and his dad Gareth won the Adult race with 110.8 metres.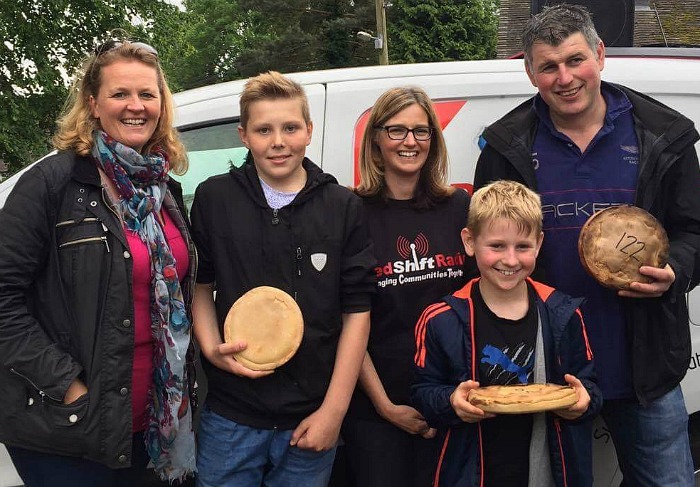 It was the first time a father and son have won in the same year.
The Under 16s race was won by Joe Toplas, from Loggerheads, with 41.0 metres.
Wybunbury Tower was open to the public, and there was a grand raffle, various stalls, and refreshments.
There were steam traction engines on display.
Domesday Border Morris Dancers and storyteller and musician Tom Hughes performed throughout the day.
The Red Lion pub had live music from Tumblin' Dice and the Swan Inn hosted a display from the Crewe & District Military Vehicle Club.
There was an art exhibition in the village hall.
The main sponsor was Martin K. Davies Osteopaths http://www.ukbackpain.com/
The rain stayed away for the fig pie competition and the event was enjoyed by hundreds of people.
(pics and words by Jonathan White)